Highlights:
A build of Microsoft's upcoming Chromium-based Edge browser has leaked online
The browser can be downloaded from online file sharing websites.
The new browser will come with multiple features that are present on Google Chrome.

It's no secret that Microsoft is working on a Chromium-based Edge browser for Windows. Ahead of the official unveiling, an early version of this upcoming browser has leaked online and is available for download, reports The Verge. The uploaded version of the leaked software is said to be quite similar to what the company is expected to soon release in its public preview. The leaked build comes soon after an early preview of the browser surfaced online. The build tipped at a slew of Chrome inspired features like support for Google browser's extensions. Additionally, the overall design of the browser seems to be a blend of Chrome and Edge's design.
"Most of the user interface of the browser is a mix of Chrome and Edge, and Microsoft has clearly tried to add its own little touches here and there," The Verge reports. As one installs and boots up the Chromium-based Edge browser, it will ask users to select a style for the default tab page before one start browsing. Additionally, it will enable pulling passwords, favorites, and browsing history from the default browser, be it Chrome or Edge. The early build can be downloaded here, but do exercise caution since the download package is not verified. We suggest waiting for the first official public preview that is verified and made available by Microsoft.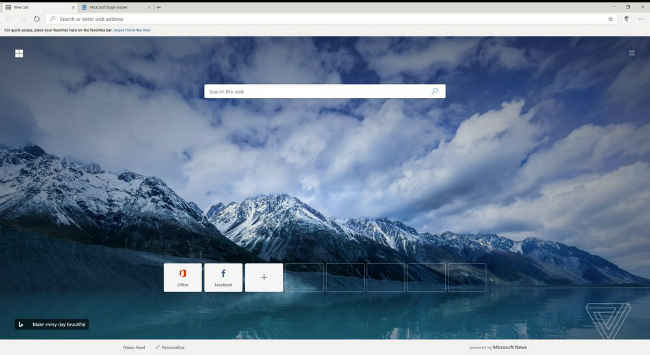 The new Edge browser is also said to come with support for Chrome extensions, alongside support for its own extensions. However, the company is yet to implement many of the native features like set aside tabs or inking with a stylus option. There will also be a read-aloud accessibility option and a black mode that is said to be enabled via a testing flag currently. One can expect most of these features, and newer ones, to be made available when the first public preview of the browser is made available. However, the look and design of the new browser could very well change as it is still quite early in the development phase.
Related Reads:
Microsoft's Chromium-based Edge browser's leaked screenshots suggest Chrome-like design, but this might change with time
Microsoft Edge now adopting Chromium open source for better web compatibility