During the Microsoft Build 2019 conference, the company took the wraps off its new Edge browser that is being developed using the Chromium open source project. Some new features were announced for the browser like new privacy tools, a completely revamped Collections feature, and an Internet Explorer mode. The company also announced the first preview builds of the new Microsoft Edge for Windows 10 and said that it will soon make its Canary and Dev builds available on macOS as well. Microsoft has now made Preview builds of the Microsoft Edge Insider available for download on macOS and Windows 10.
The new browser will sport features by leveraging the hardware features on macOS running devices. For example, the Touch Bar on MacBook Pro will display options contextual actions through tab switching, website shortcuts and video controls. "Microsoft Edge for macOS will offer the same new browsing experience that we're previewing on Windows, with user experience optimizations to make it feel at home on a Mac. We are tailoring the overall look and feel to match what macOS users expect from apps on this platform," reads Microsoft's blog post.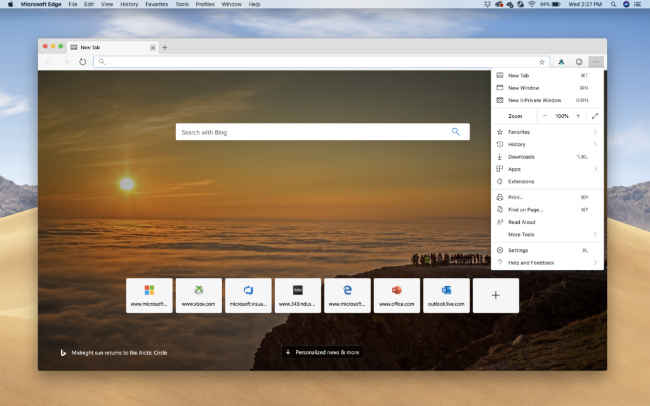 This early release is said to bring various changes to the UI to make it "feel natural on macOS." These changes include some tweaks like matching macOS conventions for keyboard shortcuts, title casing, fonts, menus, and some other areas. Microsoft says the browser's look and feel will evolve with future releases. In addition, the company is also opening up "Microsoft Edge Insider Channels" for macOS, which are starting with the Microsoft Edge Insider Canary Channel. Users on macOS 10.12 and above can download and try out the new browser from here. The Canary channel is updated daily and is less stable than the Dev Channel that will be updated weekly and is likely to be more stable.
Web developers will also be able to test sites and web apps on macOS with Microsoft Edge. The new macOS version of the browser is said to include support for "installable, standards-based Progressive Web Apps which you can inspect and debug using the browser developer tools. We're working to make PWAs feel at home alongside your native apps, so when installed they will appear in your Dock, app switcher, and Spotlight just like a native app."