For those unaware, Microsoft Edge is the company's own browser based on Chromium, a free and open-source web browser project developed by Google. And yes, Chromium is also the base for Google's proprietary Chrome browser. What this means is that Edge is now similar to Chrome in many ways. For example, it supports Chrome-based extensions. Microsoft has been hard at work bringing a bunch of new features to their browser. At Build 2020, Microsoft has announced a bunch of new features that will be available on the Edge browser. Let's take a look at some of them.
Collections in Microsoft Edge is getting smarter with a new Pinterest integration
Collections help users organize, save, and share their online life by allowing users to create groups of content from around the web. Links, images, text, and notes can be saved together across multiple sites, pages, and browser sessions so all the information you have saved is accessible in one location.
According to Microsoft, "Collections in Microsoft Edge is collaborating with Pinterest to help you discover relevant content for your research or project. People use Collections to capture their favourite design ideas, recipes, home improvement links, and even to research their next big purchase across multiple sites. This new integration with Pinterest will help you find ideas to spark inspiration, save time, and be more productive by suggesting content related to what you have already collected. When you enable the feature, you will see Pinterest suggestions at the bottom of your collection. Clicking on a suggestion will open a board of similar, trending Pins so you can quickly find and add ideas relevant to you. This collaboration also allows you to export your collection to Pinterest. Any saved web pages or images will then show up in a new board in your Pinterest account."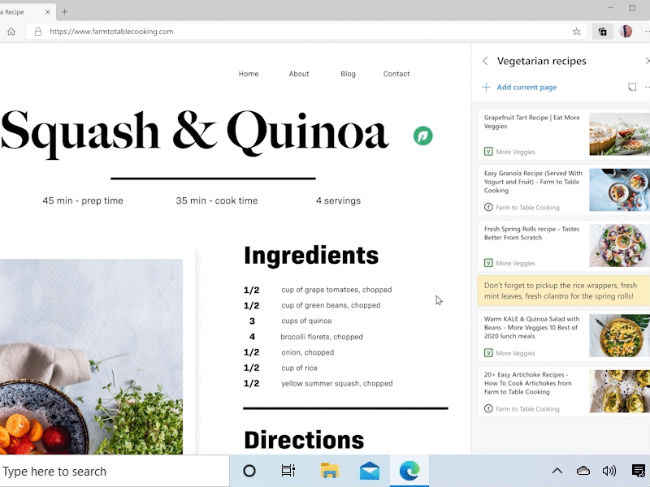 Collections will also be rolling out the ability to send to OneNote, in addition to the options to send to Excel and Word which are available today. Collections integration with Pinterest, and Send to OneNote, will appear in Insider channels within the next month.
Microsoft Edge: Sidebar search
If you have to look up something, traditionally, you will copy and paste it in a new tab or open the selected text in a new tab, right? Well, to eliminate this process and to keep you immersed in your search, Microsoft is introducing Sidebar with Microsoft Edge. According to Microsoft, "Sidebar search aims to improve this experience by giving you the option to see results in a pane on the side of the page. Simply highlight a word or phrase, right-click, and select "search in sidebar" from the context menu. And if you're at work and signed in with your Azure Active Directory account, you'll even see company results! Reading a corporate strategy paper with unlinked references? Use sidebar search to help find the answer. When you're done, you can close out of the pane or keep searching in it to look up additional information". The sidebar will show up in Insider preview channels in the coming weeks. This looks like a nice feature as it will not only help you search the web but also search internal office documents, making hunting for that presentation a whole lot easier.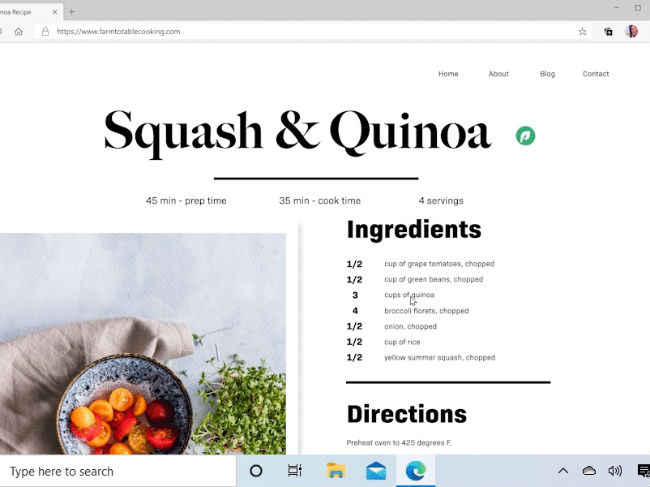 Moving over to business, users Microsoft is bringing some interesting features for business.
New syncing and customization options for IT professionals in Microsoft Edge
Put simply, if a person uses multiple devices while working from home, syncing will let the user sync the Microsoft Edge Data across multiple devices. The company's IT professionals can manage which types of data sync for their users. "The flexibility to sync individual data types means IT professionals can fit syncing to their workplace needs. For some workplaces, syncing passwords might not be allowed—now IT can manage this".
Microsoft Edge now supports Windows Information Protection for Windows 10 customers which clearly separates personal and corporate data, adds extra protection for line-of-business apps, and provides audit reporting for compliance. This has been a top ask by many customers, and we're excited to bring it to the new Microsoft Edge.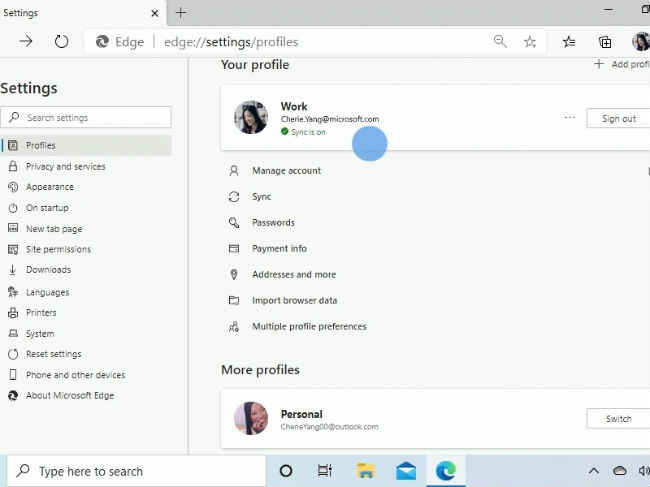 Automatic Profile Switching
If users use their personal accounts and need to access a work file, they are asked to log in again because your personal account does not have your work credentials. With the new Automatic Profile Switching feature, Microsoft Edge will detect that the link you're trying to open needs work credentials, and then switch you to your work profile to open it.
Bing Search
A comprehensive Work page will now be part of Bing's search results pages for all Microsoft 365 users. When signed-in to Bing with work credentials, this page will appear right next to other familiar pages such as Images, Shopping, and News. This new results page gives you the option to view work-specific results such as files, people, internal websites, and more.