OnePlus TV 32Y1 - Smarter TV
Android TV with superior craftsmanship and elegant design - Buy Now
Click here to know more
Advertisements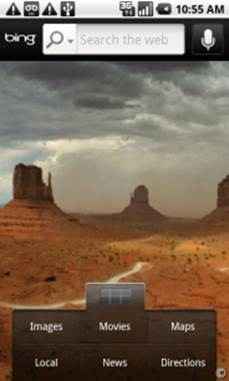 The software giant has released a new Bing search application for those Verizon customers using Android-based smartphones. The Mobile app is quite similar to the Web-based Bing, except it focuses on the kind of information one wants when searching on their cell-phone.
As posted by Andy Chu on the Bing Community blog for Mobile, "Today we are happy to announce the first official Bing for Mobile Android App available to Verizon customers. You can now download the free Bing App from your Verizon Wireless Android phones' Marketplace. The app homepage features the Bing image of the day, complete with clickable hotspots that you can explore and discover related trivia".
The app allows users to search using text search as well as voice search using the mic option. It also features an Image search which has an attractive UI that lets users swipe through previews and lets them click straight through to the image host site. The app also features a mapping functionality that tries to find the user's current location when loaded, and then helps them discover interesting places around them for food, entertainment, shopping, etc. or get driving directions. Apart from this, the app allows users to view the 'Bing Image of the day' for the last 7 days.
The Bing app for Android is currently available only for Verizon customers and can be downloaded from the Verizon Wireless Android phones' Marketplace. However, Microsoft has assured their users that the free Mobile app will also be available on other devices, as well as other carriers in the near future.