New Zealand-based cloud storage service, Mega has officially launched a free storage app for Android users Kim Dotcom's Mega gives users 50GB of secure storage free on Android devices. Dotcom has positioned Mega as a more secure version of Dropbox though that is still to be questioned.
Dotcom has been stated that "every file that is being uploaded to Mega is not just on one server, meaning if one hosting company goes bankrupt then those files will be on least two servers in the world and in two different jurisdictions."
The developer has mentioned that Mega's Android version is not a new product as the company acquired and re-launched an unofficial third-party client, in February. It already has most of the features like automatic uploading from camera, as well as browsing, creating and sharing files. The app has been acquired recently by Kim Dotcom according to the Google Play changelog and stated, "The app has been acquired by Mega and is now being maintained by Mega contractors."
The key features of the service are:
- Users can upload and download files even faster from your Android device
- Search easily for files in the MEGA account
- Automatic camera sync, photo and video uploads to MEGA
- Create, download, rename, move or delete files with ease
The changelist states that apart from the new features, the Android app has received a new Mega approved design, as well as the usual bug fixes. You can download the official app for free from Google Play. Mega has also stated that the iOS and Windows sync client apps are "in the final stages of development," and will be launching soon.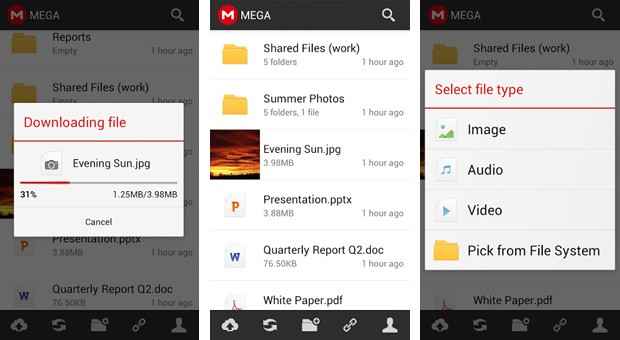 Source: Mega