Want to modernise your banking loan application?
Build an application that analyses credit risk with #IBMCloud Pak for Data on #RedHat #OpenShift
Click here to know more
Advertisements
Research firm Gartner last week came up with a new report that suggested that the growth of social media in India could slow down because of factors such as privacy concerns and cultural fabric. The Gartner report further said India may have lesser growth as compared to other nations in next five years.
The report, however, is quite surprising as it comes at a time when the social media sites such as Facebook and LinkedIn have continued to grow their base in the country. To have more clear picture on this, we asked you in our weekly poll last week that if you agreed with the Gartner analysis. Surprisingly, majority of the Indians have shown scepticism on growth of the social media.
We received a total of 303 votes, out of which the majority (112 respondents, 37 percent) were cast in favour of the option - "Well, we've reached a saturation point". This indicates a lot of our readers believe social media sites have hit their peak in the country and unlikely to expand further.
As many as 96 respondents (32 percent) agreed to the Gartner research, as they voted in favour of option - "Yes, privacy and other factors will limit its growth". It looks like users are now more attentive about the privacy issues on the social networking websites.
That being said, there are quite a few people who are optimistic about the future of the social media in India. As many as 95 respondents (31 percent) voted in favour of the option "No, social media will keep growing".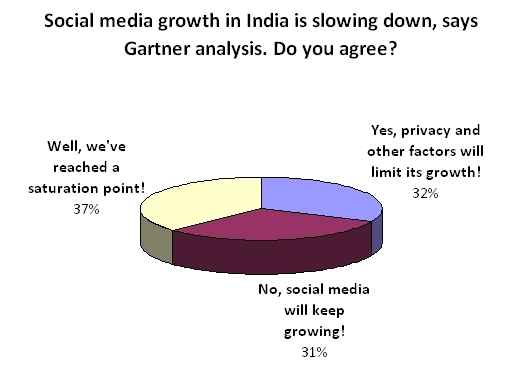 This week we've sought your opinion on how has the blocking of P2P and video-sharing sites affected you. To make your opinion count, go to the home page, navigate to the bottom of the page and participate in the ThinkDigit's weekly poll. Meanwhile, check out our previous weekly poll results here.