The Price of Rs199 for the JioFiber Combo plan is before GST. After GST, the price of the plan is Rs 234.82. The plan comes with speeds of 100Mbps which drops to 1Mbps after the FUP.
Those looking for more data for a short period of time on Reliance JioFiber connections can check out the Rs 199 plan. The plan comes with a validity of 7 days and a data cap of 1000GB. The speed you get is 100Mbps and after the FUP, the speed drops to 1Mbps. This combo plan is available for new as well as existing customers. The price of Rs 199 for the plan is before GST. After GST, the plan will cost users Rs 234.82. According to Telecomtalk, a customer can choose the plan for a period of 1 month. This will cost the customer Rs 1100 including GST and give them speeds of 100Mbps and a data cap of 4.5TB.
To put things into perspective, the other plans priced around Rs 1,000 in Jio's broadband portfolio are the Rs 849 plan and the Rs 1299 plan. For Rs 849, users get speeds of 100Mbps with a monthly cap of 400GB data + 200GB extra. For the Rs 1299 plan users get speeds of 250Mbps with a monthly cap of 1000GB data + 200GB extra. The Combo plan looks to be better than both these plans if consuming a lot of data is what you need.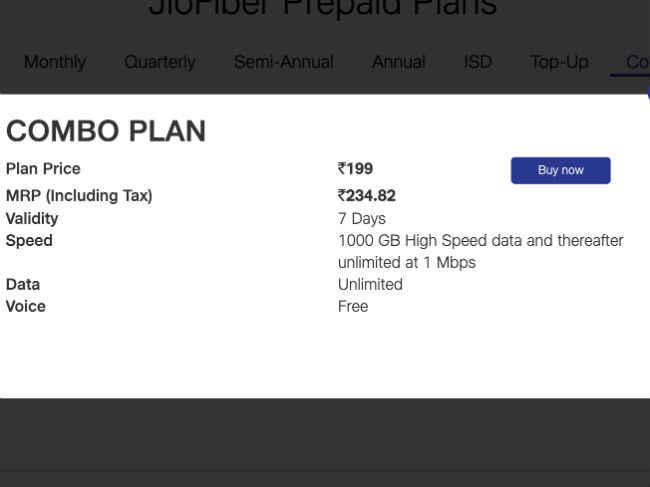 Since the country is on lockdown because of the COVID-19 pandemic, a lot of people are working from home, leading to higher consumption of data. This means that those with limited FUP are facing challenges with data consumption. However, telecom operators and broadband service providers are offering plans and packages to help users work from home.
JioFiber itself is offering 10 Mbps broadband speeds with no service charges to new users, double data across all plans for existing ones. You can read more about it here. BSNL, on the other hand, is providing free 5GB daily data under its 'work@home' broadband plan. You can read more about it here. MTNL users get double data in Mumbai and Delhi. You can check out the details here.