Despite heavy automation of the entire process, content moderation on a social media platform like Instagram can be tricky, especially when there are a billion active users uploading images to it every single day. Previously, if a post was found to be in violation of Instagram's content rules, the uploader's account would be disabled without warning. Now, however, Instagram says it has revised some of its rules on account disabling. Instagram will now warn users if their account is in danger of being shut down.
In a recent news release, the Facebook-owned social networking service writes that it is introducing a new notification process to help users understand if their Instagram account is at risk of being disabled. "This notification will also offer the opportunity to appeal content deleted. To start, appeals will be available for content deleted for violations of our nudity and pornography, bullying and harassment, hate speech, drug sales, and counter-terrorism policies, but we'll be expanding appeals in the coming months," writes Instagram.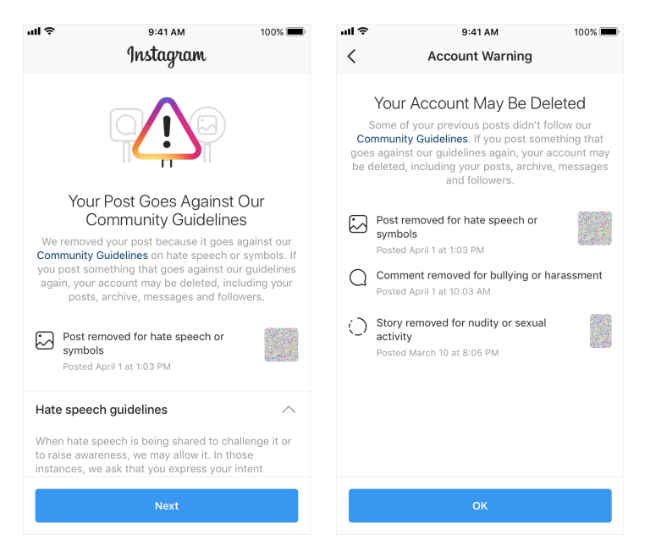 This is how the new notification will look.
Even in the past, Instagram has offered its users a chance to appeal if their account was shut down mistakenly by the service for any violatations but now, the difference is that users will first be warned about a possible account closure, giving them a chance either to appeal against Instagram's decision or remove their offensive post(s). In the past, users have reportedly had their accounts disabled temporarily for posting images that portray breastfeeding, nudity in art, etc.
In addition to the notification feature for accounts that are on the brink of closure, Instagram is rolling out a new moderation policy. The company says, "in addition to removing accounts with a certain percentage of violating content, we will also remove accounts with a certain number of violations within a window of time." The company believes that such policies are more in line with those followed by parent company Facebook and that they will be more effective in holding users accountable for what they share online.
Inline image courtesy: Instagram