India has slumped to the 131st position in global average mobile internet speeds out of 138 countries, as per the latest Ookla report for September 2020. With this, India ranks amongst the lowest eight countries, with average download speeds hitting below 12.07 Mbps. India's neighbouring regions like China, Pakistan, Sri Lanka, Nepal, Myanmar, Maldives and Indonesia rank significantly higher up in the Ookla global internet speed index.
When it comes to the global broadband speeds, India ranks 70 out of 175 countries on the Ookla's fixed broadband speeds. India's fixed-line internet speeds stand at 46.47 Mbps for download and 42.43 Mbps for uploads, while the global average is 85.73 Mbps and 45.74 Mbps respectively. This means that the broadband speeds are improving but the same cannot be said for mobile internet speeds.
How did we get here?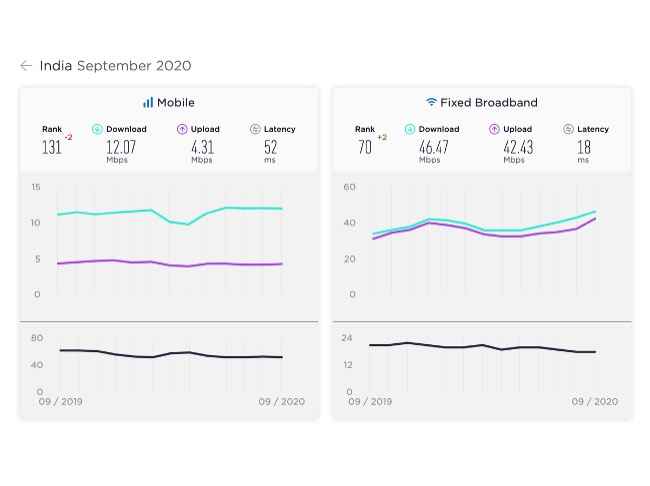 We took a look at the past average speeds data released by Ookla and found that while the mobile internet speeds in India is definitely improving each year but at the speed of a snail. In April 2019, India registered 10.71 Mbps download speeds for mobile internet followed by 10.87 Mbps in June 2019 that slipped to 10.65 Mbps in August 2019.
The global average mobile internet speed a year ago in September 2019 was 29.5 Mbps for downloads and 11.34 Mbps for uploads. According to the latest report, the average speed for downloads stands at 35.96 Mbps for September 2020 and 11.22 Mbps for uploads.
Last year, South Korea was the country to top the leaderboard with 95.11 Mbps download speeds that have now increased to 121 Mbps. South Korea tops Ookla's speed index with 121 Mbps downloads speeds followed by China at the second position with 113.35 Mbps. The neighbouring regions such as Pakistan registered 17.13 Mbps download speeds, Sri Lanka at 19.95 Mbps, Nepal at 17.12 Mbps, Myanmar at 23.22 Mbps, the Maldives at 35.70 Mbps and Indonesia at 16.70 Mbps.
India ranks 131 followed by Uganda, Bangladesh, Somalia, Venezuela, Sudan, Palestine and Afghanistan. Earlier in March this year, India registered a notable decline in its average internet speeds due to the Coronavirus pandemic that saw many people working from home, putting networks under unprecedented stress. Having said that, while other countries have successfully managed to stabilize their telecom networks to pre-pandemic levels, it looks like India will have to double down its efforts on getting up to speed, especially if the telecom operators want to adopt 5G in the future.