Want to modernise your banking loan application?
Build an application that analyses credit risk with #IBMCloud Pak for Data on #RedHat #OpenShift
Click here to know more
Advertisements
According to the latest statistics provided by Net Applications, Internet Explorer v10 has gradually taking over the previous versions of Microsoft's browser after releasing on Windows 7 earlier this year.
IE 10 has surged 1.35 percentage in March and now enjoys 2.93 percent market share of all web browsers. Overall, IE manages the lead with almost 56 percent of the browser share, according to Net Applications.
Moreover, previous IE versions - IE9, IE8 and IE7 – have taken a hit. IE9 shares have dropped 1.05 percentage, falling to 20.62 percent. IE8 dropped 0.15%, standing at 23.23 percent. It is notable IE8 is the most popular browser worldwide. IE7 fell 0.08 percent to to 1.93 percent share, and IE6 fell 0.12 percent to 6.21 percent share.
Other top browsers Firefox and Chrome have expanded their share during the last quarter. Firefox saw a growth of 20.21 percent while Chrome now runs at 16.45 percent. Net Applications points out Chrome has finally started to show signs of recovery after posting months of slump. Chrome is unlikely to go past Firefox this year, but it's still in the fray for the top browser.
Safari has 5.31 percent share whereas Opera is sitting at 1.74 percent of the browser share. These two browsers are unlikely to gain significantly in the near future amid presence of the likes of IE, Firefox and Chrome striving for the top position.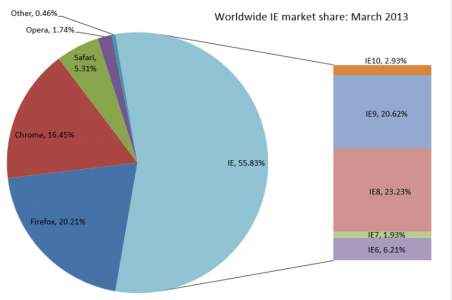 Source: TNW