After rolling out job search feature on Search, Google now aims to make it easier for students to find the college of their choice. The company is rolling out a new feature to Search, which will enable users to simply search for a college and get information like admissions, cost, student life and more, directly as a search result. To provide an idea of how much a college will cost, Search will also display information about the average cost after applying student aid, including breakdowns by household income.
The feature is currently available only in the US and Google says that it displays the results based on data sourced from public information from the U.S. Department of Education's College Scorecard and Integrated Postsecondary Education Data System (IPEDS), which is a comprehensive data set available for 4-year colleges. We have reached out to Google for comments on whether or not this feature be made available for Indian users looking to study in the US or for those looking at colleges within India. The story will be updated once we receive a response.
Google has also worked with education researchers and non-profit organisations, high school counsellors, and admissions professionals to "build an experience to meet your college search needs." When one searches for a college or a university, alongside the above-mentioned cost breakdown, there are also some other tabs that provide additional information about enrollment rates, majors available at the college, student demographics, notable alumni and more. There is also an 'Outcome' tab where one will find the percentage of students graduating from colleges or universities, along with the typical annual income of a graduate. In case you are interested in exploring other options, there is also 'Similar Colleges' tab.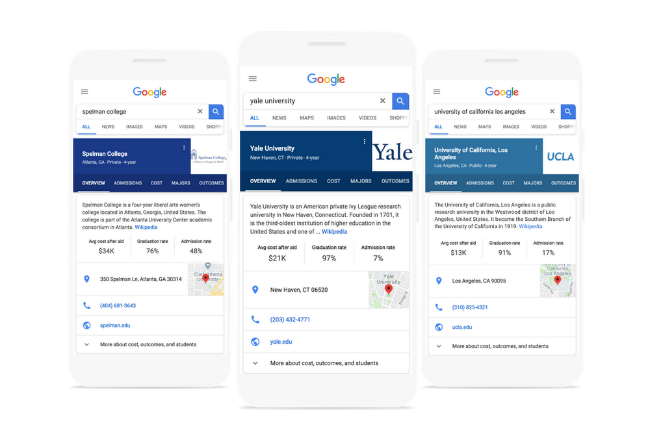 Google states in its blog, "Information is scattered across the internet, and it's not always clear what factors to consider and which pieces of information will be most useful for your decision. In fact, 63 percent of recently-enrolled and prospective students say they have often felt lost when researching college or financial aid options." The new feature is now rolling out on mobile and some of the features will also be available on desktops.