Google Search has increased its reach to more than 1400 locations globally this year, an increase of more than 700 percent since last year. According to researchers, Google is re-purposing existing infrastructure to change the physical way that Google processes web searches.
A technical report on the study will be presented at the SIGCOMM Internet Measurement Conference in Spain on October 24. The researchers found that from October 2012 to July 2013, the number of locations utilising Google's search infrastructure has increased from 200 to more than 1400, and the number of ISPs grew from 100 to more than 850.
Researchers stated that Google is using existing technologies that was used for hosting content like videos on YouTube, and is reusing them to relay user requests and responses for search and ads.
Earlier, if you submitted a search request to Google Search, it would go directly to a Google data centre. Now, the search request first goes to the regional network, which transmits it to the Google data center. The process actually speeds up searches as it eliminates warm-up lag time. Content is usually split into tiny packets and any loss of the packets causes delay in search. By using the client network as middlemen lost pockets can be easily spotted and replaced.
"Google already delivered YouTube videos from within these client networks," said Matt Calder, lead author of the study. "But they've abruptly expanded the way they use the networks, turning their content-hosting infrastructure into a search infrastructure as well," said Calder.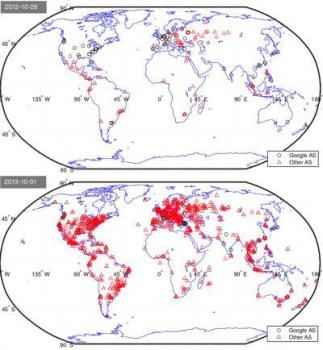 Source: Eurekalert