Working from home?
Don't forget about the most important equipment in your arsenal
Click here to know more
Google Search has long featured a built-in calculator function but with a recent update users can now access a full-fledged 34-button scientific calculator.
Earlier, Google Search simply displayed an equation results when any user entered any query such as 2 2. The new scientific calculator appears as you type a search query involving any equation or simply typing 'calculator' without navigating away from the main site.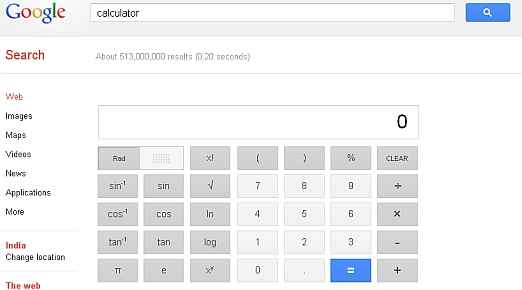 As you can also see, the Google calculator has buttons for 16 scientific functions, including Euler's number and pi, allowing users to solve all sorts of problems.
Google is offering a compact version of the calculator for the mobile browser on both Android and iOS platforms. However, you will require to rotate the phone in a landscape mode to see the scientific functions. Moreover, the calculator works with Desktop voice search as well, which means you can simply speak aloud equations for answers.
The addition of an actual calculator to the search results is likely to help save a few steps for accessing computer's calculator or opening a calculator website. Using the Google calculator is quite easy, as one has to simply type the query or go into the Chrome bar.
Google has long worked to improve its search engine to make it more useful for end users. The company recently launched 'Knowledge Graph', which serves more relevant results and key facts about certain topics. The Knowledge Graph was recently integrated to Google's Search By Image.
Meanwhile, head on to Google's home page to solve your mathematical calculations! Also tell us what you think about the new Google calculator in the new comments section below:

Also read,