The new Google Account experience makes it faster to explore and review account settings and privacy options.
Google has announced some new improvements to the Google Account experience for Android. The company is rolling some new features to make it easier for users to go over their account settings and has added more prominent security and privacy options. Now, a user will be shown summarised details of information associated with their account like their personal info, devices, purchases, subscriptions, payment methods, reservations, and contacts. The new experience is now available for all Android users and will be rolled out for iOS and web later this year.
All the settings are now neatly arranged into various tabs like Personal Info, Data & Personalisation, Security and more. The company has also added a new search feature to the Google Account and one can use it to find a setting faster. In case the user is unable to find some setting or don't know what they are looking for, there is now a dedicated support section as well. The support section details common tasks like upgrading the account storage and one will also be able to get their questions answered by community experts. We used the new Google Account experience and it's more streamlined than before.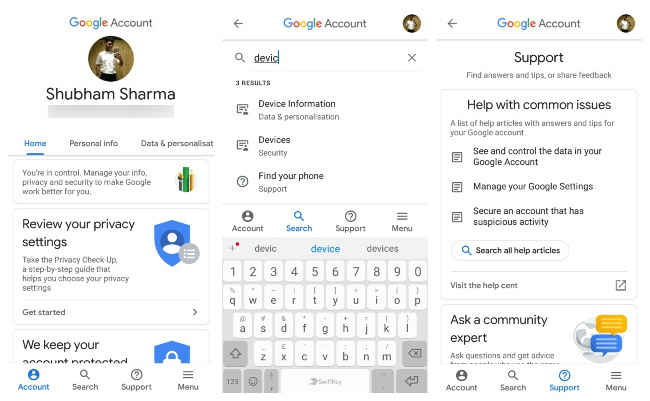 In the data and privacy section, Google is making it easier to review privacy options with an "intuitive, user-tested design." One will be able to find Activity controls in the Data & Personalisation tab and choose what types of activity data are saved in their account. An updated Privacy Checkup option is also added to this section for helping the user review their privacy settings. Additionally, the new Google Account experience will show notices if it detects that the user can take steps for improving their account's security. "For example, we might suggest you remove your account from old devices you're no longer using or remove unverified apps you had granted access to your account data," Google noted in its announcement.
Google keeps updating its services from time to time and just recently, Chrome on Android was updated with a new functionality that benefits the 'Next Billion Users'. It can now download and save articles when there is a stable, unmetered Wi-Fi connection available so that the user has access to information when offline. The downloaded articles are chosen based on what's popular in the user's location and if the user has signed into Chrome, articles made offline will be based on their browsing history. You can learn more about the new feature here.