Google wants to change your regular chat conversations into quirky online comics.
Google has filed a patent for a process that can convert your chat conversations into comic strips, and can be shared with your friends and family on the social networking sites.
This will work along the lines of comic strip generating service like Bitstrips that allows users to create an avataar according to their imagination or likeness to a character to generate a satirical or amusing strip based on real life conversations, movies, etc.
The patent filed by Google details a process that uses pre-existing conversations like chats and turns them into digital comic strips. The processes can be initiated manually or automatically. Users will be able to share the digital comic strip on social networking sites like Google , Facebook, Twitter, etc and it requires at least two people to be involved in the conversation. The strip can be edited by other parties to further its life span.
However, there is no information whether Google will actually launch the service for its users. The internet giant may have just filed the patent to shield from future patent suits.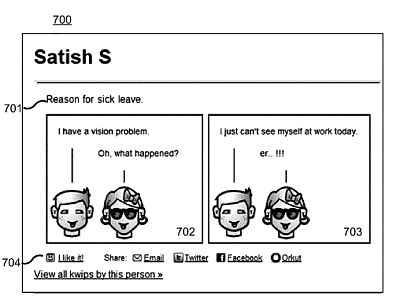 Source : USPTO