Google unveiled its much-anticipated online music store, opening a new front in its battle with Apple to provide services over mobile devices.
Google has officially launched its online music store, aiming to compete directly with Apple and Amazon in the online media segment. Google's cloud-based music service had been in beta phase since this summer.
The new Google music store allows users to upload up to 20,000 songs for free. However, users require to download Google Music manager. It also allows users to set an online locker, very much like Apple's iTunes and Amazon's Cloud Player. With the Google music store, users can stream songs to various devices. Songs can be purchased online at the Android Market using computer Web browsers. Google has said the service will be rolled out to Android-powered smartphones and tablets very soon.
Google's new service features million of songs from record labels EMI, Sony Music and Universal. Google, which unveiled the service at an event in Los Angeles, said that users can also buy music via its Android Market. To help popularise the new music store, Google will be providing one free song for download everyday.
The service also features an integration with search engine's social network Google . Users of the Google music store can directly share songs on Google , where their friends can listen the full song for free. Read more details about the new Google music store here.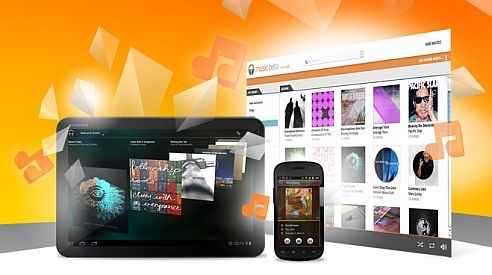 Prior to Google's new music store, Facebook had also partnered with service providers like Spotify, Rdio and MOG to provide music on the social networking site. Amazon has been a long major music retailer and features a music locker service. However, analysts are apprehensive about Google's foray into the online music segment. They believe the search engine company is unlikely to reap much success from its new venture. To establish itself in the music segment, Google needs to ensure its Android can match offerings from rivals such as Amazon and Apple.
As for Google , the move seems to be beginning of the integration of a wide range of Google products into its new social network. Inclusion of Google's assets into Google makes it a stronger offering as compared to Facebook and also Twitter.
Also read,