Look up Google's homepage today and you'll find the company's colorful logo devolved into a section of equine squares, commemorating the 182nd birthday of Eadweard J. Muybridge.
Google doodle is back. This time Google's colourful logo devolves into a series of galloping horse images, to commemorate the 182nd birthday of legendary British photographer Eadweard J. Muybridge. Credited for the zoopraxiscope in 1879, Muybridge was the first person to use the stop-motion projection display to prove that all four of a horses' hoofs leave the ground while running. In fact, the doodle attempts to revisit Muybridge's "The Horse in Motion", a film strip-style collection of shots created using 24 cameras.
Muybridge (9 April 1830 – 8 May 1904) is known for his pioneering work on animal locomotion, which includes use of multiple cameras to capture motion and his zoopraxiscope. Muybridge started to build his reputation in 1867 with photos of Yosemite and San Francisco. He was soon noticed for his landscape photographs. In the summer of 1873 Muybridge was assigned to photograph the Modoc War, one of the US Army's expeditions against West Coast Indians. Read more about Muybridge's life here.
Today's Google doodle is based on Muybridge's motion projection display. When you click on play button, images in multiple blocks start moving progressively. With increasing speed, the doodle gives an impression of motion that Muybridge demonstrated more than 130 years ago. Check out the Muybridge motion projection doodle below: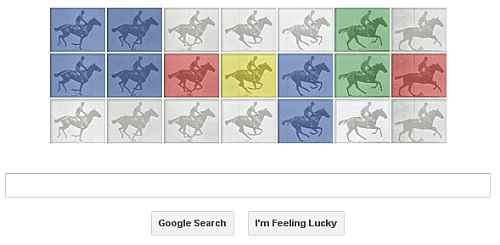 Also read,
Google doodle celebrates Mies van der Rohe's 126th birthday
Google celebrates Juan Gris' 125th birthday with Cubism-themed doodle
Google celebrates Akira Yoshizawa's 101st birthday with origami doodle