Google doodle today changes itself into a montage of cubist images to celebrate the 125th birth anniversary of cubist painter Juan Gris.
Google today celebrates 125th birth anniversary of Spanish painter and sculpture Juan Gris, also known as the third musketeer of Cubism art (Pablo Picasso and Georges Braque are the other two), with a Cubism-themed doodle.
Gris a.k.a Jose Victoriano Gonzalez-Perez was born in Madrid on 23rd March, 1987. In 1906, Gris came to Paris where he became friends with contemporary artists such as Henri Matisse, Georges Braque, Fernand Léger. Later Gris came up with his own cubist style of painting. His work generally featured cubical and angular arrangements of subjects painted using a palette of muted tones. The abstract art of Cubism developed by Gris is rated among the most revolutionary forms of art in the last century. You can read more about Gris' life here.
Today's Google doodle is based on the Cubism art form, featuring stylised representations of musical instruments. Clicking on the doodle will lead you to a Google search results page for "Juan Gris".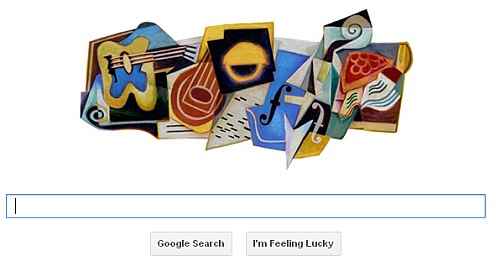 Juan Gris' is the latest cultural personality to be honoured with a Google doodle. Search engine giant recently honoured father of origami Akira Yoshizawa with a origami doodle on his 101st birthday. Opera writer Gioachino Rossini and scientist Heinrich Hertz have also featured on the Google doodle. Check out below some of the recent Google doodles: