Highlights:
Google celebrates the 30th anniversary of the World Wide Web with a doodle
On this day back in 1989, Sir Tim Berners-Lee submitted his proposal to create the world wide web.

Back in 1989, on this very same day, Sir Tim Berners-Lee submitted the "Information Management: A Proposal," to his boss. This proposal would lead to the creation of the World Wide Web, which would help enable the modern day internet as we know it. Google is celebrating the 30th anniversary of the World Wide Web with a doodle, which showcases an old school computer loading information from the internet. "The Web would soon revolutionize life as we know it, ushering in the information age. Today, there are nearly 2 billion websites online. Whether you use it for email, homework, gaming, or checking out videos of cute puppies, chances are you can't imagine life without the Web." says Google.
When presented with the proposal of the information sharing Tim Berners-Lee's boss had said that the idea of the World Wide Web was "Vague but exciting." Initially, Berners-Lee had envisioned a way for sharing information between multiple computers to help his colleagues at CERN by using a "a large hypertext database with typed links,"named "Mesh." Lee's superior allowed him to develop the proposed flowchart into a working model and the researcher wrote the HTML language, the HTTP application and the WorldWideWeb.app, which were basically the first web browser and page editor. The browser was made available to other research institutions starting January 1991 and to the general public on the Internet in August 1991.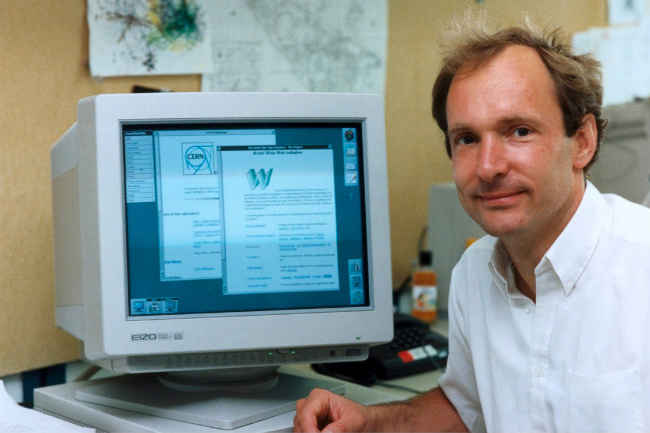 "The world wide web opened up the internet to everyone, not just scientists. It connected the world in a way that made it much easier for people to get information, share, and communicate. It has since allowed people to share their work and thoughts through social networking sites, blogs, video sharing, and more," Google states in a blog post. The world wide web basically consists of Uniform Resource Locator (URL), Hypertext Transfer Protocol (HTTP) and Hypertext Markup Language (HTML). While URL is how we find a web page, HTTP is a protocol that helps connect computers together in different networks. HTML is a way to format web pages that contain hypertext links.
Related Reads:
Tim Berners-Lee to soon launch Inrupt, a startup to decentralise web