How awesome would it be if you could simply drag and drop a file from a website such as download.com or filehippo.com to you desktop or any folder on your computer? It would seem that is where Google is headed with GMail.
Uploading and downloading files from a web interface is usually has one of the most annoying workflows, which gets worse the more you need to do it. A few years ago, uploading 20 file in order to email them would mean browsing to the location they are saved in and uploading them one by one. Even more annoying if they are in different locations. Some sites use Flash player's support for attaching multiple files to get around browser restrictions, however new features in HTML5 and JavaScript will soon allow for a much smoother file upload and download process.
A while back GMail added support for dragging and dropping attachments into your email compose window to attach them. No longer did you need to deal with the file browse window to locate your attachments, you could use any file manager or application and drag files to the GMail window to attach them. Now you can save your GMail attachments the easy way as well. You can drag the icon of your attachment in the email you receive and save it to any folder by dropping it there! You can, for example, drag and drop a document file straight to Microsoft Word, or an image file to IrfanView / Photoshop.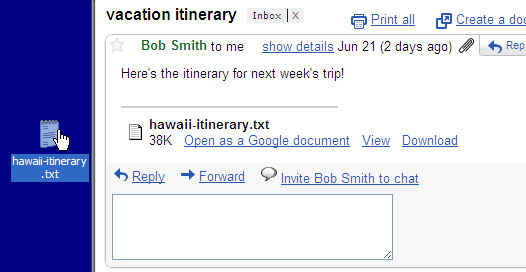 Hopefully such features will make it to Google Docs soon as well, since it would make it much easier to use after the recently added support for all file types, and a feature like this makes much more sense for a storage service than a email application.