Want to modernise your banking loan application?
Build an application that analyses credit risk with #IBMCloud Pak for Data on #RedHat #OpenShift
Click here to know more
Advertisements
International Data Corp (IDC). has forecasted that tablet shipments growth will slow down to single-digit rate by 2017. The main reason for this is an increase in the number of large screen smartphones.
IDC states consumers who are buying large screen smartphones, say a 6-inch phone, may not want to purchase a 7 inch tablet. IDC adds that the trend may benefit Microsoft's Windows tablets market share in the long run.
According to IDC, worldwide tablet shipments will reach 221.3 million units, up nearly 54% from last year but will remain below the forecast of 227.4 million. The report states that shipment growth could slow down to 22% in 2014. By 2017 the annual tablet shipment will increase to 386.3 million units down from the previous forecast of 407 million units.
IDC predicts that tablets running Google's Android operator system will have a market share of 60.8% this year, followed by Apple's iOS with 35% share, and Windows with 3.4% market share. IDC forecasts that by 2017 Android will retain the market share by 58.8%, iOS will slide down to 30.6%, and Windows share may increase to 10.2% share.
Tom Mainelli, a research director at IDC adds, "In some markets consumers are already making the choice to buy a large smartphone rather than buying a small tablet, and as a result we've lowered our long-term forecast. Meanwhile, in mature markets like the U.S. where tablets have been shipping in large volumes since 2010 and are already well established, we're less concerned about big phones cannibalizing shipments and more worried about market saturation."
A recent IDC report states that PC shipments have seen a slump of 8.3 percent in Q3,2013 in India. In terms of vendor share, HP leads the market with 32.3% of the market share and has almost one-third size of the Indian PC market in Q3 2013. Lenovo is second with 13.6 percent, followed by Dell with 11.6 percent of market share.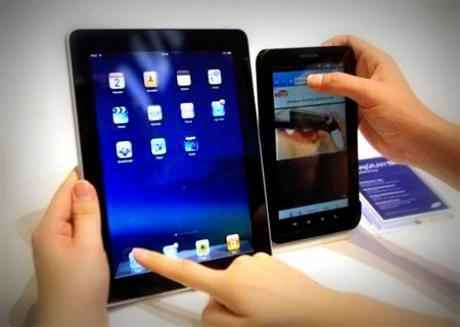 Source: WSJ