Another big step towards the big release, Firefox beta 8 is now available! While Firefox 4 beta 7 was deemed feature-complete, this new version still brings some significant changes.
First and foremost, is good news for Linux users, Mozilla has finally begun to deliver it's new UI for the Linux platform. The Firefox button is now available as a replacement for the tradition menu, although it is not turned on by default. By right clicking the menu area one can now deselect the "Menu Bar" option to hide the menu, and enable the Firefox button.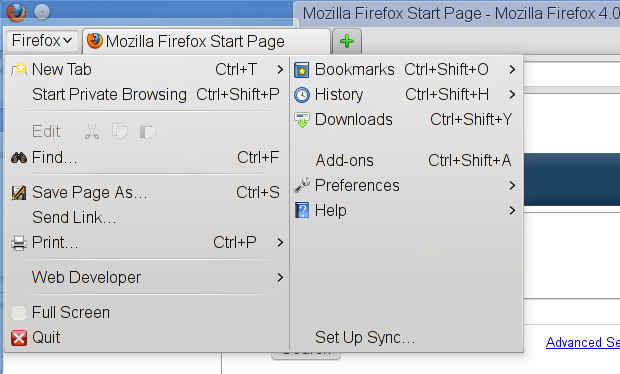 Unlike the Windows UI, the tabs in Linux get put on the same line as the Firefox button. This is planned for the Windows version as well, where the Firefox UI will look similar to Opera with a Firefox button on the left, and tabs on the title-bar on the right. However the Window titlebar change does not come in the beta.

Mozilla has also worked a lot on improving the experience for those setting up Firefox Sync. You are no longer required to remember both a password and a synchronization key. A new mechanism automatically generates a secure key for you. This also comes as a part of Sync 1.6 for current versions of Firefox.
Another change in the UI comes to the Firefox Add-on manager, which now has now been updated to use the final styling, with different visuals for disabled / enabled / incompatible / updated etc addons. Additionally, the Add-on Manager tab no longer displays an navigation bar, since it is not required. Firefox had also moved on from displaying a status bar, to what is now called the Add-on bar. The add-on bar is to be a home to any icons add-ons want to add. This bar now has a close button so it can be dismissed easily.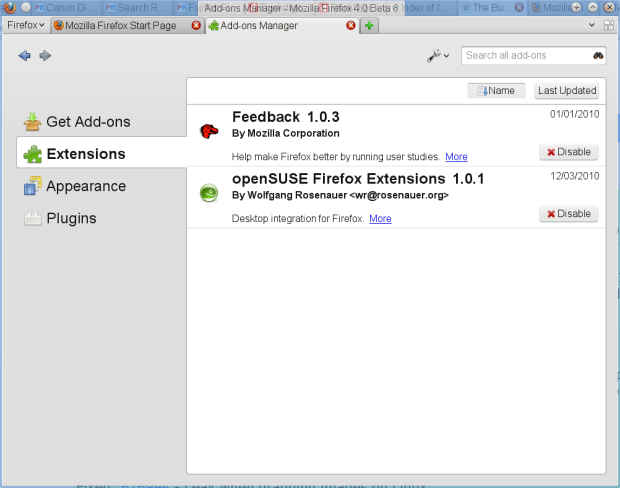 Firefox beta 8 also brings one very important usability update, JavaScript alerts are not content-modal instead of window-modal. What this means is that any alerts created by a page no longer block you from switching tabs or interacting with other parts of the browser. This is what is already done in other browsers. Earlier JavaScript popups would cover a window and stop you from doing anything with the Firefox window till the alert was dismissed.
WebSockets also come disabled in this version as security vulnerabilities were found in the protocol it uses. This feature will remain disabled in Firefox and Opera till the security issues in the protocol are resolved.
Beta 8 is yet another great step towards what is certainly one of the biggest updates in Firefox history. Yet, there is a lot more ahead. Hopefully the release will not come too late, as Firefox 3.6 is beginning to look hopelessly outdated compared to the latest slew of browser releases.
You can find out more about Firefox Beta 8 from here and download it from here.