Facebook has a new service that will enable users of the social network to report friends who have expressed suicidal thoughts and make sure they get an offer of help from the crisis counselor.
Facebook has come up with a new tool that allows users to help friends, who have expressed suicidal thoughts on the social networking site. With the new tool, users can instantly connect with a counselor through Facebook's chat messaging system. It's notable that Facebook has previously taken measures to report offensive content, fake profiles and bullying. Facebook says the new tool will help improve safety on the social networking site, which has more than 800 million users.
How it works? Users can report suicidal behaviour by clicking the report option, placed next to any piece of content on the site. Users then need to mark the content under the harmful behaviour option. The reported user will receive an e-mail from Facebook which will have a direct link for a private online chat with a crisis counselor. "This was a natural progression from something we've been working on for a long time," Facebook spokesman Frederic Wolens is quoted as saying.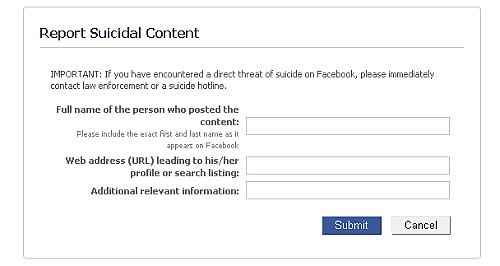 Facebook's suicide reporting form
Facebook users can also report the suicidal behaviour by visit the site's Help Centre or by searching the suicide reporting forms. Users can also use the reporting links around the site. Facebook will also send an e-mail to friends who reported the suicidal behaviour, confirming the resolution of the problem.
Also read,

Vote and Win!

Digit Icons of Trust 2011 Survey

Visit http://thinkdigit.com/trust to vote for your favorite tech brands in India.
Survey participation gives you a chance to win exciting gifts like wireless input devices, earphones and special edition Digit branded T-shirts.
As an appreciation of your valuable time and input, every participant will receive an assured gift in the form of Digit discount vouchers.
We encourage you to participate in multiple surveys to increase your chances of winning more goodies.