A stripped-down, clean interface for Facebook that loads fast and lets you do quick updates on slow Internet connections:
Facebook Lite
was almost tailor-made for the general Indian population.
One great thing about Facebook Lite (lite.facebook.com) is that on top of being much cleaner, updates appear in real-time along the bottom of the page, something which is much nicer to look at then that ugly toolbar that is on Facebook Proper, writes TechCrunch.
WatBlog reports that the new version is sans any apps, which were the high point of Facebook when it had launched them in 2007; and by 2008 they had over 1 billion installs. Of course, these apps are what cause the bloating and heavy pages in the first place.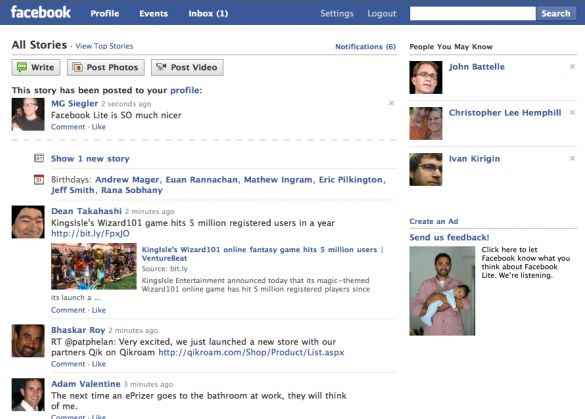 Image Source: TechCrunch
Currently, users can perform only basic tasks on Facebook Lite, such as updating status messages, 'Like' and leave comments.
As a competitor to Twitter, this version of the popular social networking service does provide ample juice while not making you port over to a new service.
TechCrunch was quick to note three of the best parts of the new service:
An 'Events' tab has been added to the top toolbar, which is much nicer than Facebook Proper, where events are buried in a sub-section
Also along the top, just above the Feed, is a way to "View Top Stories" as opposed to those listed in order
You'll also see that current and upcoming birthday for your contacts are at the top of the Feed.
So will you be switching to the new Facebook Lite, or are you happy with the old version? Let us know in the comments section below.