You will be able to make a "special type of post" when you're in need of blood and no donor data will be shared unless allowed.
Facebook is letting users in India sign up as blood donors. The feature will launch from October 1, which is National Blood Donor Day. "India, like many countries, has a shortage of safe blood. There aren't enough people donating blood to meet the demand of people who need it. In some cases, this shortage leads to patients and their family being responsible for finding donors to replace blood in the blood banks or hospitals," Facebook said in a blog post. In many of these cases, people post messages on Facebook, asking their friends for blood donation.
Users in India will start getting messages on their News Feed, asking them to sign up as blood donors. The information provided by them here will be set to the "only me" privacy mode by default, meaning their data will not be shared with anyone. You can also edit your profile to sign up for the drive. Since it's a feature targeted at India, it will be available on Android phones and the mobile web before iPhones.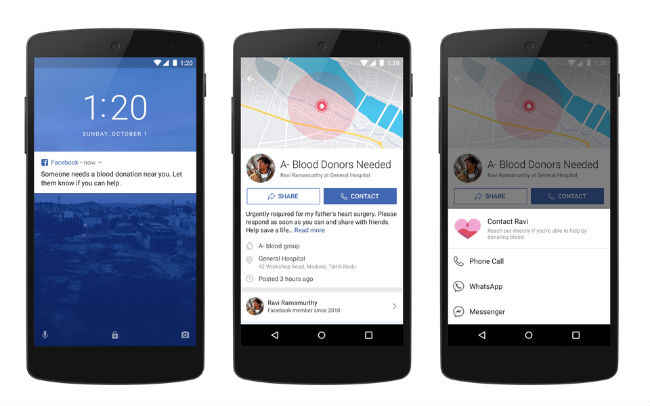 "In the next few weeks, we'll also make it easier for people and organisations, such as blood banks and hospitals, to connect with blood donors on Facebook," the company said. Next time you ask your friends for help with blood donation, Facebook will let you create a "special type of post", with all the information needed by donors. The same can be reviewed by registered donors and they will be able to contact the requestor directly, through Messenger, WhatsApp and even phone calls. The person who requested the blood will not see any information pertaining to the donor, unless the donor provides consent for the same.