Facebook has started internally testing their Dating platform, which will be a feature within the website rather than a separate app
Ever since Facebook was caught employing lax data protection policies for its customer's information, the company has been treading lightly. Their goodwill with the people is on thin ice, which is probably why the company delayed the launch of its smart speaker. The company had also announced plans to get into the dating game during F8 in May, but things on that front have been mostly quiet, until today.
According to a report, Facebook has started testing the dating feature internally. The new feature will be just that, a feature inside of Facebook and not a separate dating app as previously rumoured. Techcrunch managed to get a hold of screenshots of the on-boarding process for the dating feature and from that, we learn a few things about what to expect from Facebook's new feature. For starters, it would appear that Facebook's goal of Dating is to help people find long-term, meaningful relationships instead of one-night stands. Additionally, the feature could have limits on how many people a user can express interest in, as a way of deterring spam-like behaviour.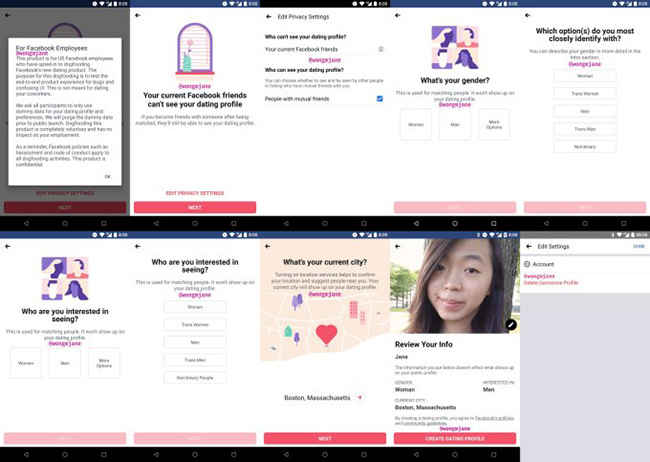 Once you have signed up to be featured in the Dating section, you'll be allowed to determine a host of parameters. Firstly, your activity within the dating section will not show up on the news feed. You will only see those people within the Dating section who have also signed up for it. You can choose whether you'll be visible to just friends or also friends of friends. You will be able to browse potential matches based on the immense amount of Facebook has on each of its users. When two people express interest in each other, they will be able to message each other over messenger.
For now, the feature will be limited to the United States of America and will need users to be 18+. If and when the feature rolls out to other countries, Facebook says users will have to adhere to the age limit for what is considered as an adult in the native country.
Facebook will have to be very careful about how it plans to roll out and maintain Dating across its platform. Given that in some cases, users may be required to share information with Facebook "in order to provide better matches" Facebook might have to be very careful on the optics. For now, the feature is only being tested internally, with no official announcement on when it will roll out officially to users.