From a new group video calling feature for WhatsApp and Instagram to the new data privacy tools and dating feature for the social media platform, here are all the major announcements made by Facebook at the F8 2018 conference.
Facebook hosted the first day of its annual F8 conference on May 1 in San Jose, California and the company announced a slew of updates for its existing products and platforms. Let's take a look at all the major announcements the made by Facebook at the F8 conference.
Facebook rolls out new data privacy tool, takes on Tinder with a new dating feature, and more
Mark Zuckerberg took the stage at the F8 2018 conference and right off the bat addressed the data privacy concerns which plagued the social media platform. He reiterated what is being done to address these issues like verifying pages running political ads with a government ID, making ads more transparent, fighting fake news with fact-checking partners and more. Facebook then announced a new "Clear History" data privacy tool, which will allow users to delete all personal data collected by Facebook from other websites and apps and the platform is now also restricting the amount of data developers can request from people.
Facebook will also soon offer a new dating feature which, according to the company, is for "building real long-term relationships and not just hookups." Users will be able to make a dating profile and they will only be suggested matches who are not their friends. When users start a conversation, it will take place in an inbox separate from Messenger or Facebook's standard inbox. The new feature will also allow users to match with people in different groups or events which they are interested in attending.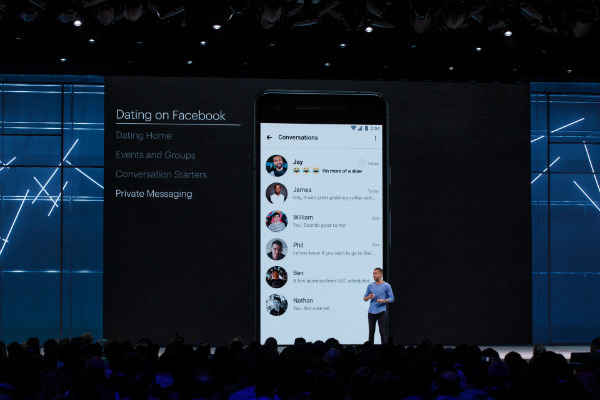 Facebook is also simplifying its Messenger app and aims to make its interface clean and fast. The new update, said to be rolled out soon, will remove the games and camera buttons on the bottom navigation pane for a cleaner look and the app will also feature a dark mode. The Messenger app will also come with integrated language translation feature, starting with English to Spanish text conversion support. There will also be some AR based camera effects for the app, which is mainly aimed at businesses. The company says, "the following brands will be launching AR effects for their Messenger experiences: ASUS, Kia, Nike, and Sephora. ASUS will be bringing the "unboxing experience" to life with the ability to get a deeper look at phone features and functionalities."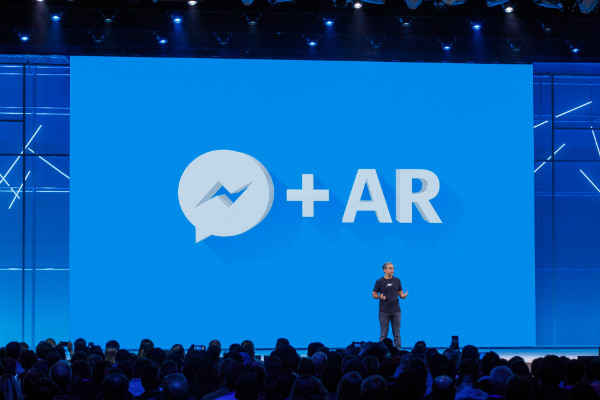 Upgrading it's VR offerings, Facebook is offering users to upload 3D illustrations and photos to the News Feed. The platform will also be able to reconstruct "memories" in VR by mapping out immersive spaces by utilising computer vision on a user's photos. As Zuckerberg demoed in a video, if a user has images of their birthday from their childhood, they will be able to dive into VR and re-experience the room, and their memories, which will be created using pointillism effect. The company will soon introduce 3D photos as well, allowing users to capture and upload photos to Facebook as a 3D image.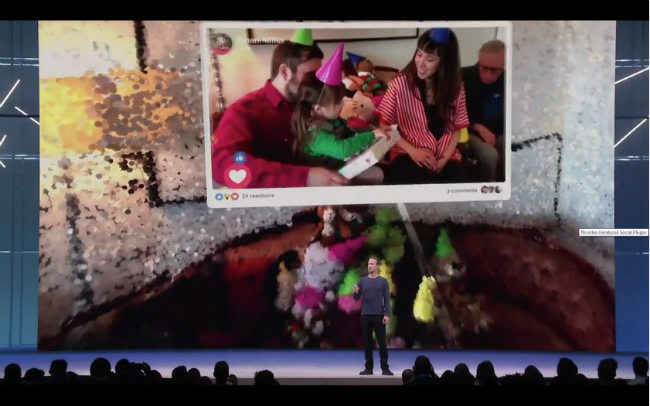 Finally, Facebook is reopening its app review process after the Cambridge Analytica fiasco. The company has also announced teaming up with RED for developing a professional, high-end VR camera, which will reportedly capture high-resolution imagery in 6DoF (six degrees of freedom). It's not known when the camera will be launched or its price.
WhatsApp to get group video calling and sticker support:
Facebook has announced a major feature addition for its online messaging platform WhatsApp. It will soon be updated with the group video calling feature. Not many details of how the feature will work have been shared but from the demo showcased at the event, it was clear that at least four people can join in on the video call. It will also soon be updated with some business-focused app features, along with stickers, which apps like Messenger, Facebook, Hike and others already have. The company also shared some numbers and said that there are now over 450 million daily users on WhatsApp who send over 65 billion messages every day and over 2 billion minutes of video and audio calls happen every day via the app.
Instagram also gets a slew of new features:
Instagram will now support video calling for direct messages, along with support for placing group video calls. The app is also cracking down on bullying by upgrading its offensive comment filters to protect users from bullying comments. It is said to be available for only comments in English currently and will be enabled by default, but users will also have an option to disable it.
Instagram's most popular feature Stories will also be updated with third-party app integration to directly share content from apps like GoPro and Spotify. Users will now be able to share stickers of what they are listening on Spotify directly to their stories, as well as their GoPro footage. There are also new AR effects, which include face filters and world effects that a user can try.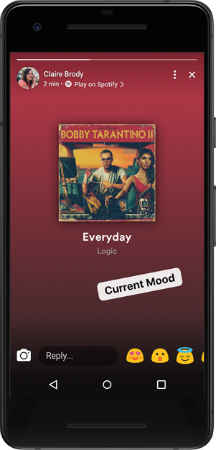 Facebook announces Oculus Go starting at $199 (Rs 13,400)
Facebook has announced its more affordable Oculus Go standalone VR headset, which is available for purchase in 23 countries, but India is currently not part of the list. The 32GB internal storage model of the device costs $199 (Rs 13,400), whereas its 64GB variant is priced at $249 (Rs 16,600).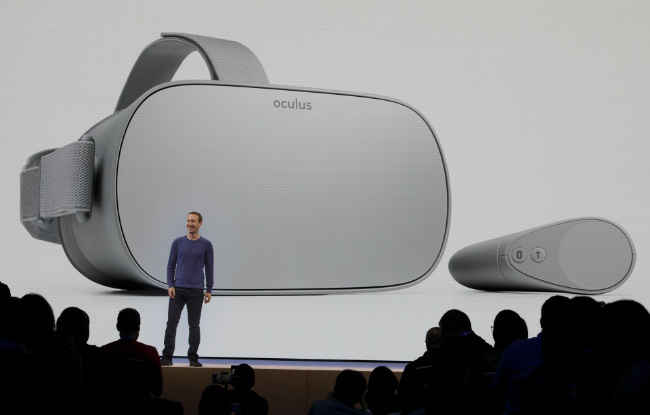 The VR headset comes with support for new social experiences like watching multiplayer games, live shows, concerts and more. The company also introduced a new Oculus TV hub which allows users to stream content directly from Netflix, ESPN and more.