If information circulating the internet is to be believed, then the BSNL STV-339 plan will offer users 3GB data per day with a validity of 28 days. This information comes from Trak.in, but when we logged onto the official BSNL website, we still saw the STV-339 plan showing 2GB data per day with a validity of 28 days. We are trying to reach out to BSNL for comments on the same.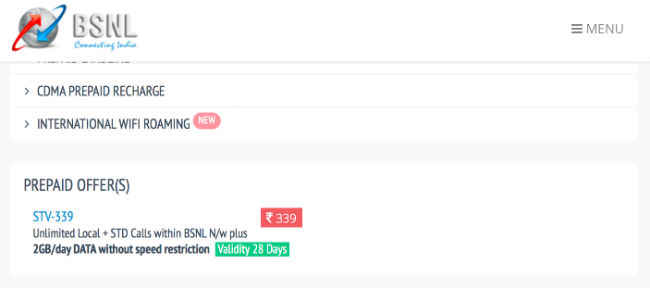 Trak.in goes on to state three other plans - Dhil Khol Ke Bol (STV349), Triple Ace (STV333), and Nehle per Dehla (STV395).
Dhil Khol Ke Bol plan will give users 2 GB per day, along with unlimited local and STD calls only in their home circle. The Triple Ace STV333 plan will give users 3GB/day for a validity of 90 days. The Nehle per Dehla STV395 plan offers 3000 BSNL to BSNL free minutes, 2GB data per day and 180 minutes of off-the-internet voice calls per month. This plan has a validity of 71 days or 10 weeks.
You can check out BSNL's prepaid offers here.
Just to give you some perspective, Reliance Jio's Dhan Dhana Dhan offer offers free unlimited data, free voice calling, unlimited SMS' and access to Jio's apps for three months. Existing Jio Prime members can pay Rs. 309 to get 1GB of data per day, or pay Rs. 509 to get 2GB data per day. Those who haven't subscribed to Prime will have to pay Rs. 408 and Rs. 608 for the two plans respectively. Further, it should be noted that these plans are only valid for the first recharge. So those users who have already paid Rs. 303 for the Summer Surprise offer are not eligible. However, they will still get to enjoy the benefits of the Summer Surprise offer.
From the looks of it, the BSNL plan seems to be more economical than Jio's Dhan Dhana Dhan offer, but that might change in the coming days. The ultimate beneficiary will be the consumer who gets access to a host of affordable data offers.