Highlights:
BSNL has announced its new FTTH service called Bharat Fiber.
The telco says that under the new service it will offer 35GB data per day at as low as Rs 1.1 per GB.
Booking for the new service is now open on the company's website.

BSNL has announced its BSNL Bharat Fiber service, which is a fiber-to-the-home (FTTH) internet service for its consumers. Taking on rivals like Jio GigaFiber and Airtel Broadband, the service is said to offer 35GB data per day at as low as Rs 1.1 per GB. To make sure that users can express their interest in the new service, BSNL has commenced bookings for Bharat Fiber via its online portal. The telco says that the aim of this new service is to expand its offerings and bring internet to "every home" of the country. Digit has confirmed that the new service is an announcement that BSNL will now be offering internet services over fiber, instead of cable, and is extending its internet services to more regions of the country. There are no new plans under this new service since it uses the current FTTH plans that are mentioned on the telcos' website. This announcement comes soon after the state-run telecom operator announced a 25 percent cashback on its half-yearly and annual broadband plans.
"We realised that now customers are demanding super-fast Internet and have started owning more electronic gadgets and entertainment tools than ever before," says the Director of CFA, BSNL board, Vivek Banzal, in a press release. "So our Fiber to Home technology has been upgraded and we are happy to announce the launch of Bharat Fiber which will be an affordable yet able to meet the huge data demand of our customers." Banzal adds, "Bharat Fiber bookings have already been started on bsnl portal. Our technology is one of the best as digital India is a national mission and we want to put all efforts to make this happen in every home of our country."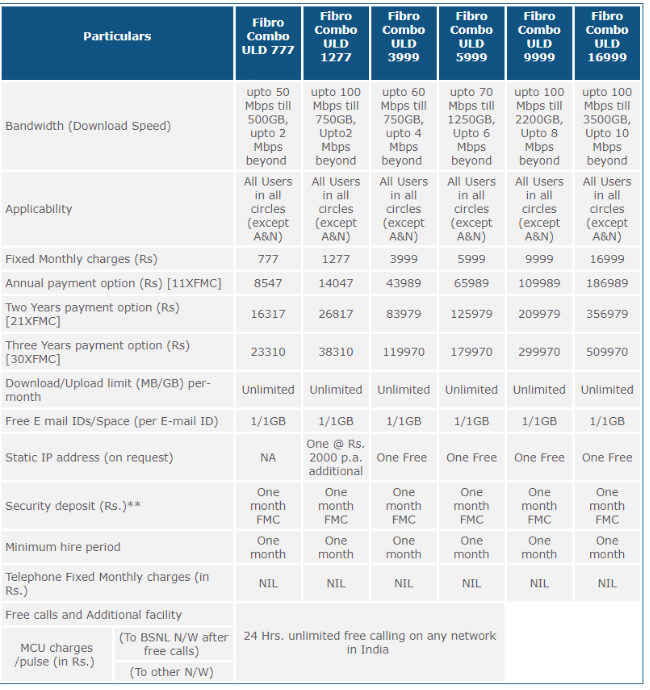 As mentioned above, this new service will go up against the offerings by Jio and Airtel that offer their own respective internet services. Jio's GigaFiber internet service is currently being rolled out selectively to users, depending on the region from where most consumers have expressed their interest for the service. There is no definitive timeline on when Jio GigaFiber will be made available for all.
Related Reads:
BSNL announces Ananth and Ananth Plus prepaid plans with unlimited calling
BSNL challenges Jio GigaFiber by offering more data, higher speeds on select FTTH plans