Airtel has launched its 4G services in Kolkata today. It has also disclosed 4G data plans, which start at Rs. 999 for 6GB. Click the link to read full coverage.
Bharti Airtel has become the first telecom operator in India to offer the latest 4G technology, as it launches the fourth generation mobile services in Kolkata today. Union telecom minister Kapil Sibal inaugurated Airtel's 4G (TD-LTE) network.
While launching 4G services, Bharti Airtel chairman Sunil Mittal said he hopes that other operators will follow suit soon and make the TD-LTE the "defacto 4G standard" in India. The high speed wireless broadband can help build the country's digital economy, he added. "With one of the largest pools of young population in the world, India will see massive growth in consumption of data and content over mobile devices and proliferation of mobile commerce," Mittal pointed out.
Bharti Airtel paid about Rs. 33.14 billion in 2010 to the government for 4G license in four circles namely Punjab, Maharashtra, Kolkata and Karnataka. The company has been given 20 MHz of BWA spectrum in 2.3 GHz frequency band. Airtel has roped in China's ZTE Corp as the network vendor partner for the Kolkata circle.
Moreover, Airtel has also disclosed the 4G tariff plans on its official website. The plans start from Rs.999 for 6GB of data, while the top-end plan is Rs. 1,999 for 18GB of data. There's a plan for Rs. 1,399 that gives you 9GB of free data usage. Airtel is offering 4G services through its USB modems and 4G LTE Indoor Wireless Gateways. Users can avail Airtel 4G on both pre-paid and post-paid. After users exceed the free data quota, speed will come down to 128 Kbps as per Fair Usage Policy. Check out the detailed 4G LTE Plans from Airtel here.

The cheapest breakfree plan has 6GB of free data. Contrary to speculation, Airtel's 4G data plans seem competitive, as compared to 3G data plans offered by other operators.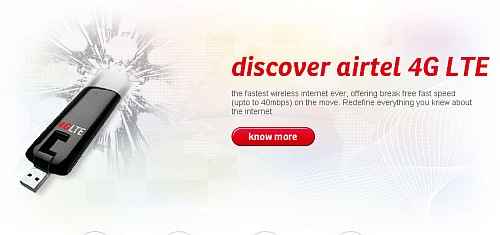 Source: ET
Also read,