Qubo Smart Security WiFi Camer with Face Mask Detection
India's most versatile weatherproof outdoor camera that protects your outdoors 24x7 and provides crystal-clear video streaming day and night through the qubo mobile app.
Click here to know more
Advertisements
Hacker group Anonymous India has struck BSNL's website, demanding withdrawal of the controversial Section 66A of the IT Act, 2000 and expressing support for activist Aseem Trivedi who is on an indefinite hunger strike at Jantar Mantar, Delhi for the same demand. BSNL's site – www.bsnl.co.in – is inaccessible at the time of publication, though reports claim the site was restored last night.
Activist Trivedi confirmed Anonymous had contacted him yesterday afternoon to inform him about defacing BSNL's site. Anonymous also leaked passwords and database of the state-run telecom operator.
According to reports, the website was inaccessible for most of the Thursday afternoon and early evening. A cached version of the BSNL's home page featured an image of activist Trivedi with texts that read, "Hacked by Anonymous India. Support Aseem trivedi (cartoonist) and alok dixit on the hunger strike. remove IT Act 66a databases of all 250 bsnl site has been d Hacked by Anonymous India (sic)". The text was repeated over and over on the page, and ended with the text - "Proof are (sic) here" followed by a link to a page having passwords to BSNL databases.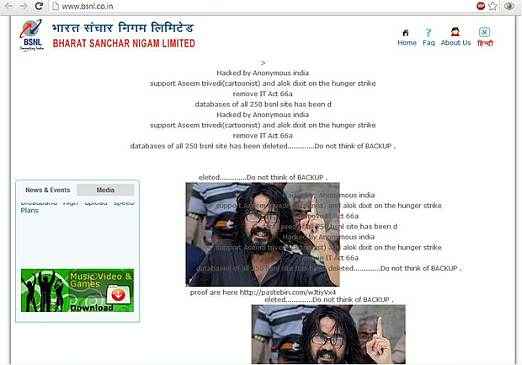 Defaced BSNL website
Later Anonymous India confirmed in a Twitter post on Thursday, it had hacked BSNL's site and leaked company passwords and database on Pastebin. "Anonymous India demands the withdrawal of Section 66A of the IT Act," the post said.
The legislation's section had drawn flak from all corners after the two girls in Maharashtra were arrested for posting anti-Thackery Facebook status. The arrest of the two girls saw an outrage across the country over the alleged misuse of the Section 66A by the police and on the need of clearer guidelines that ensure freedom of expression guaranteed by the Constitution of India.
Attack on BSNL's site comes days after Anonymous took down official website of Union minister Kapil Sibal. Claiming the responsibility of hacking Sibal's website, Anonymous on its Twitter account said: "He (Sibal) had used the words 'Victims of freedom of Expression'. He is hiding the fact that #66A is breaking the internet media."
This is not the first time Anonymous has targeted the government websites. Earlier this year, the self-proclaimed hactivists took down various government sites to oppose the move to ban file sharing and streaming websites such as PirateBay and Vimeo. Read more about Anonymous' protest here.
According to official figures, as many as 294 websites of various government departments and ministries were attacked by hackers during the period between January-October 2012. The numbers are however lesser than 308 sites hacked last year (till October).
Source: TOI
Also read,
Govt. orders blocking of 690 'offensive' webpages this year
294 government sites hacked between Jan-Oct 2012: Milind Deora
Indian government to deploy IPv6 to combat cybercrime