Want to modernise your banking loan application?
Build an application that analyses credit risk with #IBMCloud Pak for Data on #RedHat #OpenShift
Click here to know more
Advertisements
Amazon is currently hosting an event called re:MARS, which kicked off on June 4, and will go on till June 7. During the event, the talked about its developments in the fields of Machine Learning, automation, robotics and space, and even unveiled its new drone delivery service called Amazon Prime Air. The company is building new fully electric drones that are touted to have a range of up to 24 kilometers and are capable of delivering packages under 2.2 kgs to customers in less than 30 minutes. If everything goes well, Amazon expects to commence deliveries via drones to its customers within months. Additionally, the company also previewed new cross-skill conversations for Alexa, which enables the digital assistant to understand the flow of dialogue with a user and make use of multiple skills at once.
Amazon Prime Air drone program
Amazon has stressed the importance of safety in its new Prime Air program. The new drones made by the company will feature a hybrid design. They will be capable of vertical takeoff and landing, similar to a helicopter, and is claimed to be efficient and aerodynamic like an airplane. The drones will also be able to shift between vertical-mode to airplane mode and then back to vertical mode when required. The machines are completely covered for safety with covering extending to the wings as well, which is said to help increase efficiency while in flight.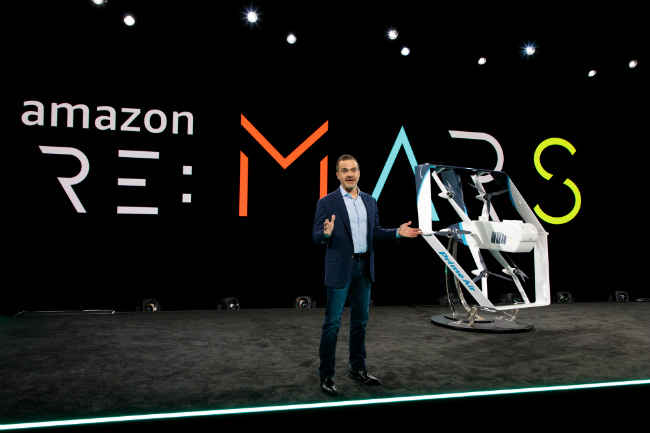 The drone supports six degrees of freedom, against the slightly restrictive four DoF, and it employs AI to figure out static and moving objects when in transit. When the aircraft descends to deliver a product, it will require a small, clear area. Amazon will use stereo vision in tandem with trained AI algorithms to detect people and animals from above. Wire detection is a difficult problem to deal with and the company apparently used computer-vision techniques to recognise and avoid wires while descending and taking off from a customer's yard.
Cross-skill conversations for Alexa
Rohit Prasad, VP and head scientist of Alexa, announced new cross skill conversations for Alexa. Using a deep learning-based approach, the developers were able to create a recurrent neural network that models the dialogue flow. This basically means that Alexa will now get better at ascertaining a customer's 'true goal' from their conversation and utilise multiple skills. "We envision a world where customers will converse more naturally with Alexa: seamlessly transitioning between skills, asking questions, making choices, and speaking the same way they would with a friend, family member, or co-worker," says Prasad. "Our objective is to shift the cognitive burden from the customer to Alexa."

Prasad also previewed a conversational 'night-out-planning experience' that is slated to be made available to consumers soon, starting with the US. He also said that by refining machine learning algorithms, Alexa is now 20 percent more accurate in the last 12 months.