Qubo Smart Security WiFi Camer with Face Mask Detection
India's most versatile weatherproof outdoor camera that protects your outdoors 24x7 and provides crystal-clear video streaming day and night through the qubo mobile app.
Click here to know more
Advertisements
A number of government websites including those of Defence Research and Development Organisation (DRDO), the Prime Minister's Office and West Bengal's police department, Directorate of Estates (Ministry of Urban Development), Biotechnology Industry Research Assistance Council, and Rehabilitation Council of India have suffered massive cyber attacks.
According to reports, the attack was part of a major operation by hackers from Algeria. Though the government sources have denied possibilities of data theft as of now, investigations are still on and the efforts are being made to fully restore these sites.
The biggest attack was on the DRDO's Recruitment and Assessment Centre website that deals with the recruitment of scientists to the several laboratories of the DRDO. The website remained down for more than 9 hours.
The hackers from Algeria, known as SanFour25, have so far conducted 40 attacks. The hacker group had earlier targeted Israeli institutions. The message posted on the websites, after they were attacked, read: "By SanFour25, Alegerian Hackers."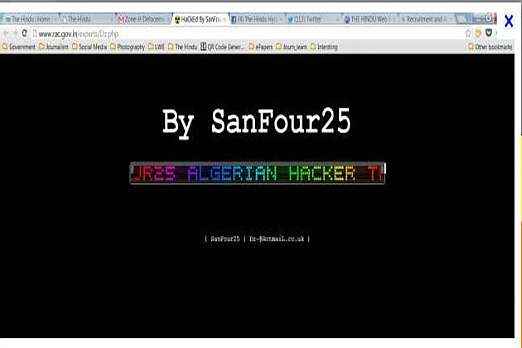 The security agencies are highly concerned over the fact that the hackers group belong to Algeria. The Intelligence Bureau officials fear SanFour25 could be associated with a terrorist outfit in Algeria. The country is said to have 20 terrorist groups that have been classified as dangerous and have direct link to Al-Qaeda.
The latest spate of attacks has exposed India's vulnerability to cyber attacks, despite the government efforts to ramp up the infrastructure to prevent such incidents. It's not the first time Indian websites have come under cyber attack.
Few months ago, Anonymous took down various websites including those of MTNL and political parties such as BJP. Back in March this year, the Indian government revealed its over 100 websites had suffered cyber attack in a span of three months.
Also read,