Airtel is offering up to 1000GB of extra data for its broadband users under its "Big Bytes Offer". Airtel V-Fiber broadband customers can avail anywhere from 500GB to 1000GB of additional data, depending upon the pack they choose and one should note that that only new customers are eligible for the offer, who avail the telco's DSL broadband services online on or after June 12, 2017. Also, the extra data offer can only be availed online and is not available valid on special, commercial or enterprise plans.
As per Airtel's website, the offer is applicable on rental plans starting at Rs 699 per month going up till Rs 2,099 for Bangalore based Airtel broadband users. Similarly, it is available starting at Rs 699, going up till Rs 1,799 for Mumbai based users. The offer is also available in other regions and varies depending upon the location where a user is based out of. One should check on Airtel's website before opting-in for availing the benefits.
The internet speeds, along with the data rollover option will be applicable as per a user's base plan and the additional data is applied over and above the base plan quota. To avail the offer, new Airtel customers need to visit www.airtel.in/broadband and select a base plan. After that, they have to enter their mobile number and address to raise a request for new broadband connection or contact customer care to apply for subscription to Airtel Broadband services.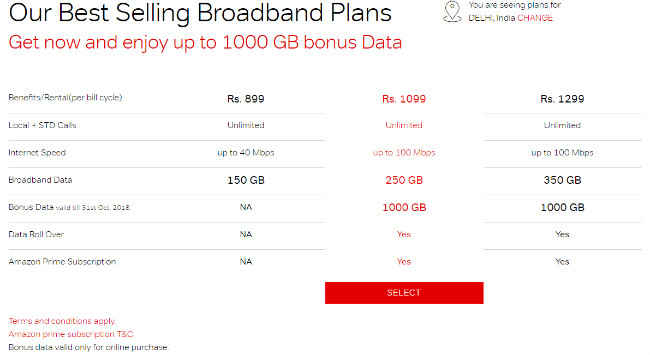 Broadband plans with additional data for Delhi
Users will be able to avail the benefit a week after the start of broadband services, but the additional data will only be available once they exhaust the data alloted in their base plan. The "Big Bytes data" will be carried over each month, for the plans which offer the data roll-over option till 31st October 2018 and any data unused till then will be invalidated. You can read the entire terms and condition of the offer here.
Airtel had previously announced a new offer for its home broadband customers under which they will be able to avail an extra 5GB data on their Airtel postpaid mobile. The offer is still available and users can claim the additional data via the MyAirtel app on any one of the Airtel postpaid numbers linked to their Airtel Home broadband account. You can read more about the offer here.