Reliance Jio recently announced its Jio GigaFiber broadband service and it seems that as a response, Airtel is eliminating Fair Usage Policy (FUP) from its own broadband plans. The change is currently being reflected only for Airtel broadband users in Hyderabad, but the company could do the same for other regions too. In addition, the telco has streamlined its broadband plans in the city and is now offering four plans instead of five. The telco is also offering savings of up to 15 percent if one purchases a plan for six months. The benefit goes up to 20 percent if one pays for a year of Airtel broadband connection. However, there is no data rollover, or Amazon Prime Subscription available with any of these plans.
As mentioned above, the new packs by Airtel start at Rs 349 and go up to Rs 1,299 and there is no FuP applicable on any of them. This means that a user can download an unlimited amount of data without any cap or restriction, at the speed their subscribed plan offers. FuP capping is essentially bandwidth restriction for preventing heavy downloaders from taking up the available bandwidth. With the Rs 349 plan, Airtel broadband subscribers will get to avail Internet speeds of up to 8 Mbps, while the internet speeds are bumped up to 16 Mbps, 40 Mbps and 100 Mbps with the Rs 499, Rs 699 and Rs 1299 plans respectively.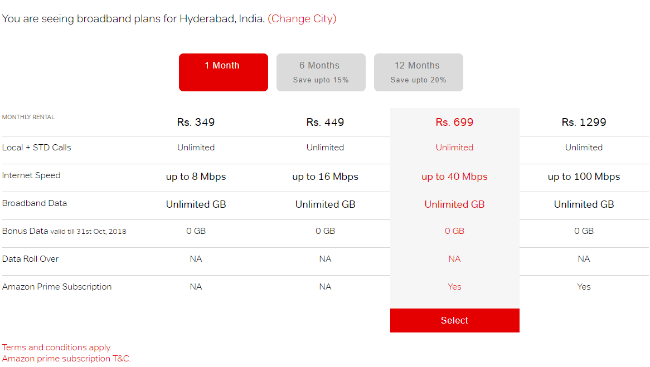 Even though Airtel has rid users of any capping on downloads, the speeds offered by it pales in comparison to the 1Gbps speed that Jio says it will deliver with the rollout of its Jio GigaFiber broadband service. Jio announced its GigaFiber Services at the company's Annual General Meeting and said that it will be made available for 1,100 cities in India, starting August 15. You can read more about the new service and other announcements made by the company here.
We have already reported of a speed test result of Jio's new service where both the upload and download speeds are seen nearing 100Mbps. However the test was conducted with no load on the network and on the main server, however, Jio's network is said to handle multiple simultaneous downloads and still provide speeds of up to 40Mbps to each user. You can read more about this here.