Bharti Airtel is making an all-out effort to popularise its 4G (fourth generation) telecom services. The telecom operator, which yesterday announced the launch of its 4G services in Bengaluru, is offering its 4G LTE services, starting at Rs. 999 for 6 GB.
The Rs. 999/6B offer, which was already available in Kolkata circle, features download speed of 100Mbps. After free usages, users will receive 128kbps. However, Airtel 4G customers can avail "Smartbytes", Airtel's 4G LTE top-up service, to purchase add-on packs after exhaustion free benefit usage.
Apart from Rs. 999 plan, Airtel is offering three more plans – Rs 1,399 (9 GB), Rs 1,999 (18 GB) and Rs 2,999 (30 GB). Post the download cap, the speed will come down to 128 Kbps. The offers are available in both prepaid and postpaid. Check out Airtel's 4G plans below: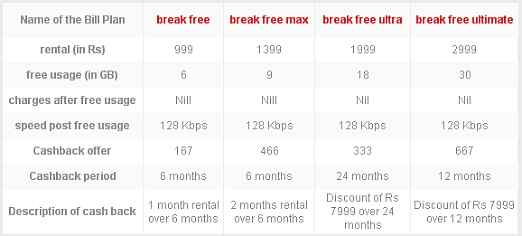 Bharti Airtel yesterday launched 4G services in Bengaluru, almost a month after it launched the fourth generation in Kolkata. It's notable that Airtel is now planning to launch its 4G services in Punjab, Maharashtra (excluding Mumbai) circles.
Bharti Airtel had shelled out Rs. 33.14 billion in 2010 to the government for 4G license in four circles namely Punjab, Maharashtra, Kolkata and Karnataka. The company has been given 20 MHz of BWA spectrum in 2.3 GHz frequency band.
Reliance Industries (RIL) is expected to launch its 4G services later this year. According to reports, RIL will bundle its 4G services with an ultra low-cost tablet. Meanwhile, Tikona Digital Networks, which has 4G license in Gujarat, Himachal Praesh, Rajasthan, Uttar Pradesh East and Uttar Pradesh West, is likely to launch 4G in October this year.
Also read,