In view of the growing availability of affordable smartphones and increase in usage of mobile Internet, the number of social media users in urban India is expected to hit 66 million by June 2013, says a report by the Internet and Mobile Association of India (IAMAI) and Indian Market Research Bureau (IMRB).
According to the report, number of social media users in India had reached 62 million in December 2012. About 74 percent of the total social networking users in the country belong to urban areas. The report says there are 80 million active Internet users in urban India, out of which 72 percent (58 million users) access social networking sites such as Facebook, Twitter and LinkedIn.
"Social networking through mobile phones is an ever increasing phenomenon observed today. With mobile penetrations reaching very high levels, and an increasing number of individuals owning feature-rich phones or even smartphones that allow Internet access, social networking is rapidly penetrating the India Active Internet user base. Affordable mobile Internet plans additionally serve rising usage levels," notes the report.
Breaking down further, social media is extensively access by users belonging to demographic segments of "Young Men" and "College Going Students", with 84% & 82% penetration levels respectively. Take a look at the graphical representation of the demographic segments below: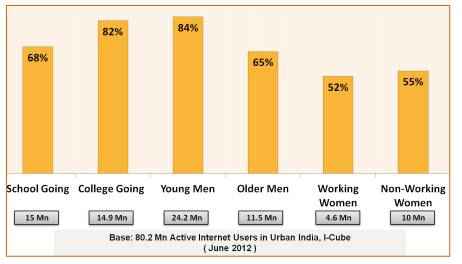 Among all social networking sites, users most accessed Facebook. According to the report, Facebook is used by 97% of all individuals, whereas the next places are taken by Google and LinkedIn. It is worthwhile noting that the professional networking site LinkedIn has the highest proportion among females and users above 25 years. In fact, LinkedIn has the second highest average time spent only after Facebook.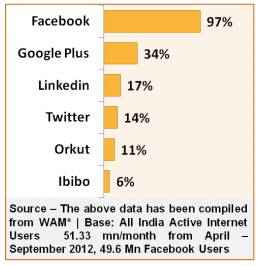 The report also shed light on the top mobile applications used by the Indian users. As per findings, the most popularly used mobile apps are of Social Media (81%) and Entertainment (73%). You can check out the full IAMAI and IMRB report here.