If you've been jealous of the Americans for the insanely amazing Black Friday and Cyber Monday sales, well, burn no more. The Great Online Shopping Festival is Google's initiative to bring the same Cyber Monday fever to the Indian consumer and kicks off at midnight, December 12, 2012.
Google's brought every popular online retailer on the Indian e-commerce scene onto one platform, to allow the Indian consumers to indulge in an online shopping extravaganza. The concept comes from the Black Friday and Cyber Monday sales that come after the Thanksgiving celebration, which is always on a Thursday. It is a little ironic though, that after spending a day being thankful for what they have, the people feel compelled to lineup at 3 in the morning for Black Friday Deals. The USA has had a track record of a number of deaths occurring due to overzealous shoppers looking for that extra percent off on their favorite garment.
The craziness, coupled up with the fact that geeks and nerds are generally lazy, led to the formation of "Cyber Monday", a term coined by the people at Shop.org as far back as 2005. Cyber Mondays brought the joy of "Black Friday-like" sales to the online space, so that people could shop from the comfort of their homes. Black Friday sales generally see a drop in prices that would also drop jaws. Imagine buying a 1TB portable HDD that's normally $150 for as little as $50. Imagine buying a $90 pair of designer jeans for just $30. We're talking serious mark-downs here and Google bringing this ideology to the Indian shores is supposed to be incredible. Right?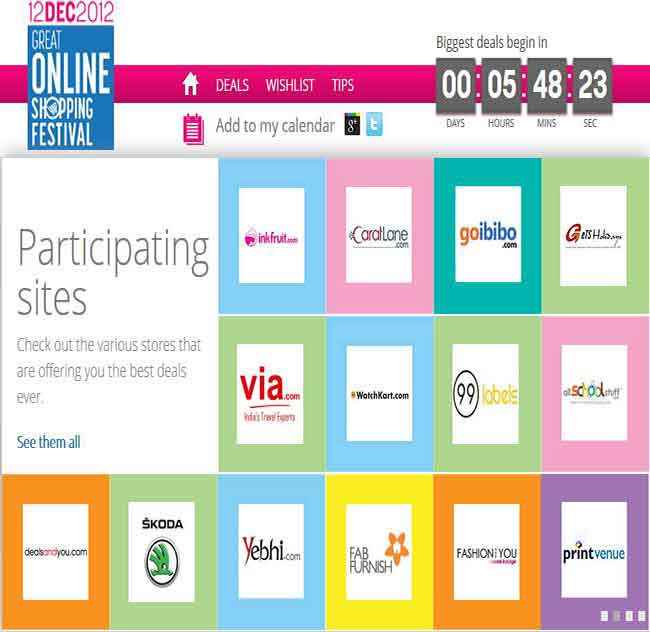 Wrong! We've spent a lot of time on the "Electronics" section of the festival website and we are not impressed. Retailers like Flipkart, eBay, Croma, Ezoneonline, Gadgets.in, Sulekha are all present here and flashing huge discount banners. With just 9 hours to go, we've been scouring the site to see what kind of deals are available and we're quite frankly very disappointed. The first thing we noticed is that as with any sale in India, the price of the product first gets marked up and then a meager discount figure is appended to it. For example, we're in need of a 1TB portable hard drive, which retails for anywhere between Rs. 5,500 – 5,900 on Flipkart, depending on the brand. When we visited the GOSF pages of the online retailers, we found that the same hard drive was marked up to Rs. 8,500, with a 35-40% discount, bringing the price back in the Rs. 5,800 range. Does that sound familiar? Yes people, welcome to sales in India.
We found the same pattern across many tech categories like cellphones, hard drives, laptops etc. However, sellers like eBay and SnapDeal will only reveal their deals once the festival has officially kicked off at midnight tonight. Some sites such as are offering discount codes that would apply to any purchase made on their site, along with discounted prices on certain items.
The Great Online Shopping Festival is a great initiative from Google, but unfortunately, from what we see right now, the deals fall flat on their face. The prices are no different from what you'd find on websites any other day and even when an item is being sold at a reduced price, they are barely 5-10% less. Cyber Monday sales see discounts of about 50%. So far, it's a disappointing sight, but come midnight, things hopefully just might change.
Check out the Great Online Shopping Festival, here.