Qubo Smart Security WiFi Camer with Face Mask Detection
India's most versatile weatherproof outdoor camera that protects your outdoors 24x7 and provides crystal-clear video streaming day and night through the qubo mobile app.
Click here to know more
Advertisements
Xiaomi has launched its latest smart fitness device, the Mi Body Composition Scale in India priced at Rs 1,999. Alongside measuring the body weight, users can keep track of other statistics like BMI, bone mass, body fat, muscle mass and more. The weighing scale will be exclusively available via the company's website Mi.com from Thursday at 12 PM. It will be available only in a white colour model.
The Scale features a minimalistic, sleek design and sports polished glass with an anti-slip finish. Xiaomi says that the Mi Body Composition Scale makes use of "10 precise data points" for providing accurate body composition statistics. It shows muscle mass, visceral fat, BMI, bone mass, basal metabolism, water content, body score, body fat, weight, and more. It sports an LED display that lights up for displaying information three seconds after stepping on the device and comes with a 'unique' light sensor, which automatically adjusts brightness for improved readability.
The company says that using a series of complex algorithms and advanced Bioelectrical Impedance Analysis (BIA), the Mi Body Composition Scale produces accurate body data stats. The device is capable of identifying between children and adults, and can also store up to 16 user profiles. It uses four standard AAA batteries and can be connected to the Mi Fit app access as it comes with Bluetooth 4.0. The app provides insight into the user's health with by syncing data from the weighing scale and displaying it in graphs and charts.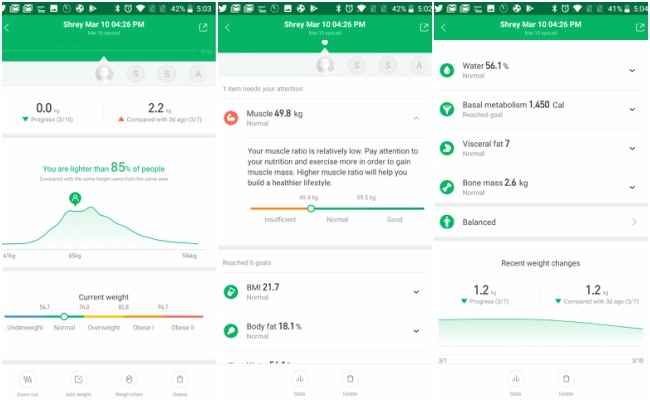 The Mi Body Composition Scale weighs 1.6KG and has a reading precision of 50 grams with the weighing range lying between 5 to 150kg. It is compatible with devices running on Android 4.4 and above, as well as iOS 8.0 and above.