Highlights:
iRobot has launched the Roomba i7 and i7+ in India priced at Rs 69,900 and Rs 89,900 respectively.
The robots can clean your house.
They works with Alexa enabled devices, IFTTT and will soon get Google Assistant support.
Whenever I see a robot that can do the work a person can, I am reminded of the scene from the movie iRobot where Will Smith talks to the head of the robotics company and says something on the lines of, "there is a man who spends time making and crafting a beautiful chair and then one of your robots comes and does it in a matter of seconds." He is implying the loss of jobs in the movie. Coincidently, the company looking to make Rosie from the Jetsons a reality in your life is also called iRobot.
The company has launched the iRoomba i7 and i7+ in India and the floor cleaning robots are priced at Rs 69,900 and Rs 89,900 respectively. There is also the Clean Base Automatic Dirt Disposal which is sold separately to those who have purchased the i7 and that will retail from Rs.37,900. Additional Dirt Disposal Bags will be made available starting at Rs.1,690 for a pack of three bags. Now how this disposal system works and what these bags are is something we will talk about in a second.
If you have used a Roomba before, you will know that the robot leaves its housing, goes around your room cleaning it and comes back to the charging station when it is done. Plain and simple right? The upgraded models launched today also work with Alexa voice commands, IFTTT and will soon support the Google Assistant as well. In the demo we got, the device left its housing, mapped a room for us, cleaned it and came back to the housing. The only problem here was that the band of Journalists and bloggers surrounding the device confused it to the point that it needed manual intervention. However, if you don't have annoying children or pets, or objects which would obstruct this process, the robot should clean your room with no problem. Just remember it can't open doors or climb steps.
Speaking of steps, the device can remember 10 floors. Yes, 10 floors, so if you have a mansion, or 10 different flats, it can remember the floor plan of all of them. When you get the robot, you will have to let it move around the house to "map" the floor. Once mapped, you can rename the rooms using the smartphone app to things like "living room", "master bedroom", etc. You can also set boundaries using the app if you don't want it to cross a certain point.
Once setup, you can schedule the roomba to clean everyday, on specific days, set it to clean when you leave the house if you have an IFTTT setup, so on and so forth. You can also call it back to the base station manually if you don't want it to 'roomba' around you. Overall, with the time we saw the app in action, both on a tablet and smartphone, it worked well. It was simple to use, easy to navigate and intuitive.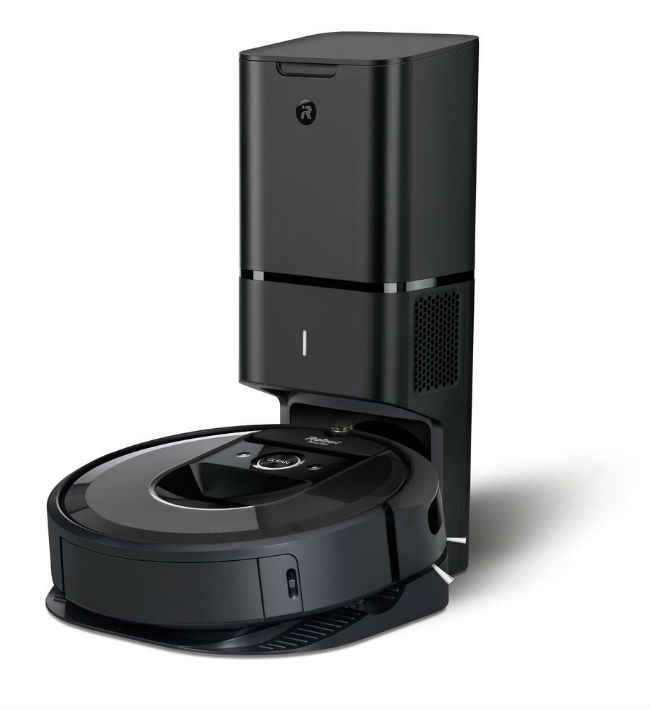 Moving to the Clean Base Automatic Dirt Disposal, think of this as a garbage bin for the dust your Roomba collects. Once your Roomba is done cleaning the house, it will come back to the base station and the Clean Base Automatic Dirt Disposal will suck all the dirt from the robot and store it in a bag. Once the bag needs to be disposed off, you will get a notification on your phone via the app. The bin should last you for a long time unless you live in a place that attracts a lot of dust and have an OCD for cleanliness.
When it comes to cleaning, the device is considered as a replacement for sweeping, not swabbing. So remember that if you spill a glass of milk on the floor, it won't clean that up for you. The bin collector in the robot itself can be removed and cleaned which is nice, although you don't have to if you invest in the Clean Base Automatic Dirt Disposal.
Overall, seeing the robot scurry from one corner of the room trying to clean the floor made me wonder if it can replace a human being cleaning Indian homes. For about 90,000, I could pay someone for a little less than three years (if they doesn't ask for a raise that is) and the person will sweep, swab and also cook food for me. A person can also pick up and put things back in their place if they are lying on the floor. Though an interesting product, this is targeted at niche users. We would like to know from you if this is a product that sounds interesting and if you would consider buying it? Let us know in the comments section below. Stay tuned as we will bring you a video of the product in action soon!
Also read:
The evolution of surgery: From bloodletting to robots
Kerala Police employs humanoid robot as sub-inspector for front desk management