Google Home smart speakers can now stream music from Gaana and Saavn, two popular streaming services for Indian users. The move comes a few days ahead of the launch of the Google Home smart speakers in India. Google is all set to get the Home speakers to India on April 10 and it will be the first time the company forays into the smart home device market in the country, even though the first Google Home speaker was launched globally in 2016.
After Google confirmed the launch of the Google Home and Home Mini in India, a Reddit user posted screenshots of Saavn and Gaana working with the Google Home speaker in the country. In addition to Google Play Music, the music streaming options for Google Home now show Saavn and Gaana as the default music options. Saavn and Gaana users can link their accounts with Home and start streaming music on the smart speaker through the services.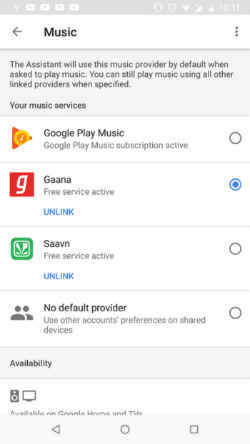 Although the Google Home has not officially launched in India, some enthusiasts did buy the smart speakers in the country. Back in 2016, one had to use a VPN to access services on the Google Home. These services were not locally relevant, until Google officially introduced Play Music in India last year. After the introduction of Google Play Music, Home users in India were able to easily stream music on their smart speakers.
Given that the Home speakers are just a few days shy of their India launch, It only makes sense for Google to add support for locally relevant music streaming services like Saavn and Gaana. The two services are not India specific and are also available internationally, however they are quite popular with Indian users. Saavn currently has over 22 million users globally, while Gaana reportedly succeeded 50 million monthly users in November 2017. Both streaming services have paid and free music streaming offerings.
Gaana was recently reported to have suffered a user data leak at the hands of a hacker. Data of around 10 million Gaana users was leaked after a hacker used an SQL injection-based exploit of Gaana's systems to gain access to private user information.
While Gaana has been hit by a hack, Saavn recently gained a new investor in the form of Reliance Jio. As per the terms of the agreement, Saavn and JioMusic will soon be merging to form a new music streaming entity, the name of which is still unknown. Reliance Jio has pumped in $104 million into Saavn to acquire a partial stake and going forward, Google Home users could get access to this new Jio-Saavn music streaming service as well.
There are no details on other local services that will be made available on the India version of the Google Home speakers, however, the company can be expected to go the Amazon Echo way and forge new partnerships with local news outlets and service oriented apps to create locally pertinent commands for the Google Assistant which resides within the smart speakers. Amazon launched its Echo range of smart home speakers in India last year and also added Saavn as an Alexa skill, amongst other local skills such as Zomato, Amazon shopping, Ola, Uber, Hungama and more. It now remains to be seen what Google will do in this space and how competition heats up between the two Silicon Valley tech giants.
For more technology news, product reviews, sci-tech features and updates, keep reading Digit.in or head to our Google News page.