Highlights:
Amazon and KFC India partner to let users order food using Alexa.
To order food, users need to enable KFC skill on the Alexa app.
Alexa will read out the menu and special food offers for ordering.
At a time when most things around are getting smarter, why shouldn't ordering food from restaurants be more intiutive? Well, Amazon and KFC heard you and have partnered up to launch the KFC skill on Alexa which will let users order food from their nearest KFC restaurant using voice commands on any Echo or Alexa-enabled smart speaker. Those who use any Alexa-powered smart speaker just need to install and enable the skill from the Alexa app, and say "Alexa, start KFC"; "Alexa Launch KFC"; "Alexa tell KFC I am hungry".
With this alliance of food and technology, KFC India becomes the first QSR brand in the country to associate with Alexa for online ordering, the company said. Through Alexa, consumers can now place a hands-free Cash on Delivery order within the KFC delivery radius. KFC says that the KFC India skill can be experienced across all Amazon Echo smart speakers as well as a range of Alexa built-in devices such as Harman Kardon Allure.
"As users get accustomed to engaging with Alexa, they look for new ways to embrace voice technology in their daily experiences. The ease of ordering food with just a few voice commands can be very convenient. We are excited that Alexa users can now order their favourites from KFC in a few minutes with this new skill," Dilip R.S., Country Manager for Alexa Skills, Amazon India, said in a statement.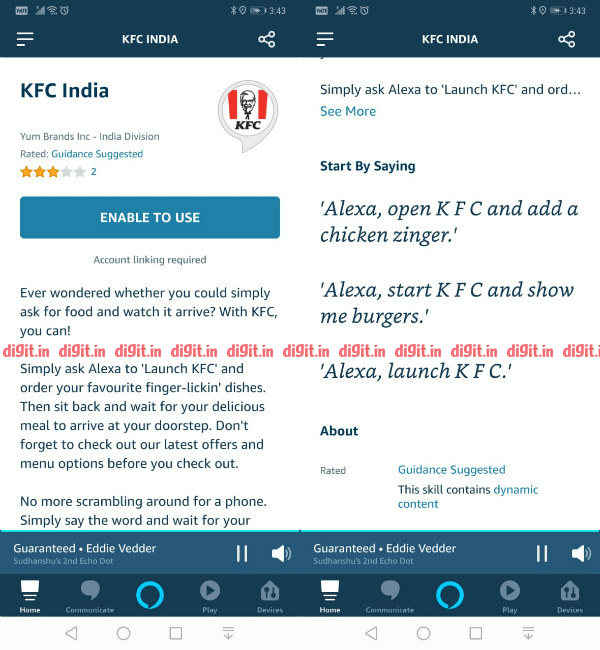 How the skill works:
First, you need to enable the KFC skill by searching and downloading it in your Alexa app. Once enabled, command, "Alexa, Launch KFC", and your KFC skill will be launched. The third step is to order food from the KFC delivery menu. Alexa can read out the menu to you and it can even tell you the discounts and offers on food items. Once the order is placed, users can expect a confirmation call from the restaurant on their registered number. The smart speaker can also be used to track the order while waiting for it to arrive.
Talking about this launch, Moksh Chopra, Chief Marketing Officer, KFC India said, "Voice recognition is becoming a game changer today, with millennials rapidly embracing and getting comfortable with this new technology. So, the finger lickin' good taste of KFC is now available to be ordered through interactive voice technology on the Alexa platform – making it super easy and fast for consumers to order their favourite food at home."
In December 2017, Amazon announced a partnership with KFC Canada to make easy for Canadians to order food from the restaurant. Previously in India, Amazon had partnered with PVR Cinemas and Foodpanda for their services in India. Last year, Amazon launched a new category of Alexa skills specifically designed for children under 13 years of age in India.
Related Read: