The Sony WH-1000XM4 is no longer much of a secret and the company is expected to officially announce the headphones in India on September 18th via a Livestream on YouTube. If you've been waiting for these headphones to launch in India, the date announcement date is now confirmed.
The Sony WH-1000XM4 has already been launched in international markets for a price tag of $350, the same as the price of the older 1000XM3 (Review). However, the headphones could see a slight bump in price due to the weak Rupee over the last few months. If Sony manages to price the headphones the same as they did the previous model, then its nothing but a win-win for consumers.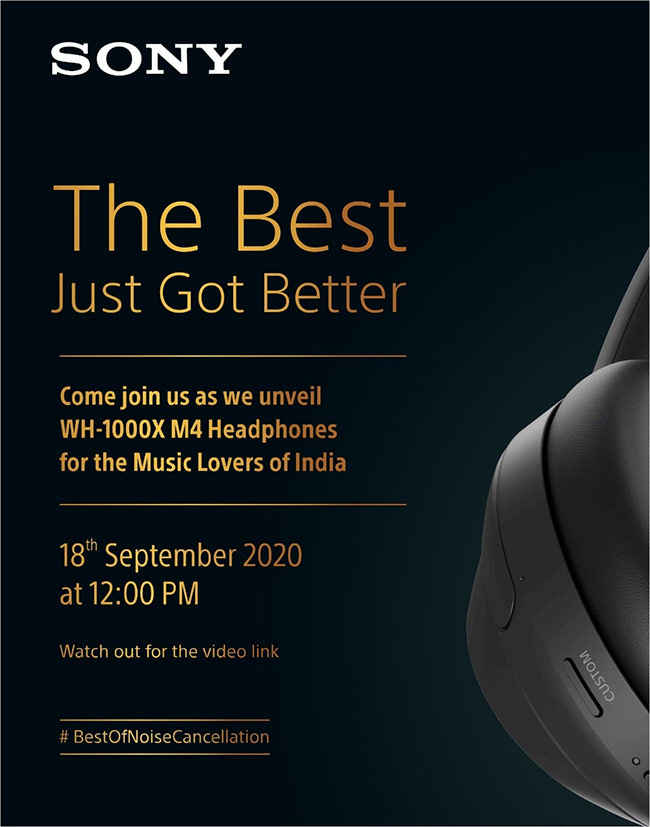 The Sony WH-1000XM4 doesn't bring a basket-full of big changes but instead incorporates a large number of refinements over the previous generation of noise-cancelling headphones from the company. There are, however, a few notable features that should attract new buyers. First, Sony seems to have finally figured out multi-device pairing, which allows you to have the headphones connected to two devices simultaneously. This means you could be listening to music with the headphones paired to your laptop, but the headphones will switch over to your smartphone automatically when there's an incoming call. The lack of this feature was the biggest criticism for the Sony 1000XM3. There's now also a proximity sensor which would play or pause your music automatically depending on whether you're putting on or taking off the headphones. The headphones now also support Sony's LDAC codec. What remains mostly unchanged is the design and battery life. The noise cancellation is handled by the same chip that's found on the 1000XM3, although Sony says the algorithms on the QN1 chip used in the 1000XM4 are new.
The Sony WH-1000XM4 are going to be announced by Sony on September 18th, with the headphones being available soon after. The company had recently launched the WH-SP800N (Review) and WF-1000XM3 (Review), both truly wireless IEMs, but were made available a few days after their announcement date.
For more technology news, product reviews, sci-tech features and updates, keep reading Digit.in or head to our Google News page.