Apple AirTag has been officially unveiled as the latest accessory that lets you keep a track of your valuables, right from your iPhone. The AirTag is a tracking device that can be hooked to keys, backpack, wallet, handbags and other such important objects that are used in day-to-day life. The AirTag works in tandem with the Find My app which makes it easier for users to locate these objects when misplaced or lost.
Announcing the AirTag, Kaiann Drance, Apple's VP of Worldwide iPhone Product Marketing said, "We're excited to bring this incredible new capability to iPhone users with the introduction of AirTag, leveraging the vast Find My network, to help them keep track of and find the important items in their lives. With its design, unparalleled finding experience, and built-in privacy and security features, AirTag will provide customers with another way to leverage the power of the Apple ecosystem and enhance the versatility of iPhone."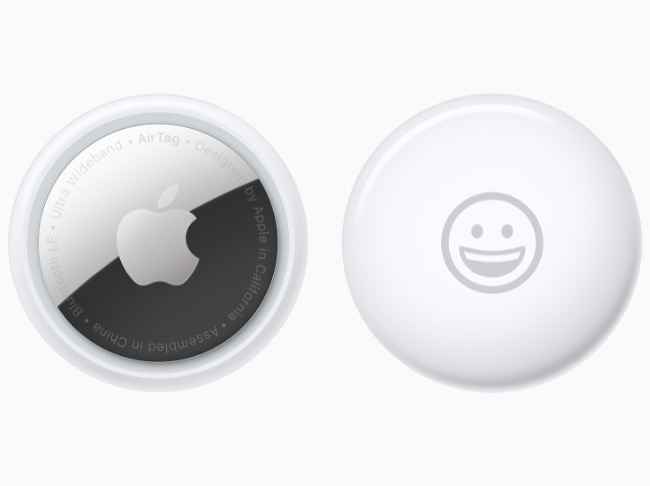 The Apple AirTag has a polished stainless steel build and is IP67 rated making it resistant to dust and water. The cover of the AirTag is removable to replace the coin battery that powers it. Apple claims that the CR2032 coin battery can last for a year after which it has to be replaced. Additionally, users can customize the AirTag at the time of purchase with an engraving of their liking. Apple will let users personalize their AirTag with an emoji, text or number.
Apple AirTag uses the Find My network to view the last location of the tracker and if it is in the Bluetooth range, the Find My app will allow users to play a sound from the built-in speaker for easily locating it. The AirTag is also equipped with the U1 chip with Ultra-Wideband technology that enables Precision Finding for users of the iPhone 11 and iPhone 12 series. This lets users locate the AirTag with much more precision as the U1 chip provides direction and distance using the camera, accelerometer and gyroscope.
If the AirTag is out of the Bluetooth range, Apple's Find My Network can detect Bluetooth signal from the misplaced AirTag and alerts the users of its location. Furthermore, the AirTag does not store location data and only the owner of the device has access to that data as part of Apple's privacy efforts.
Apple has also announced some accessories to go along with the AirTag that includes a leather loop, leather keyring and polyurethane loop that can all be used to attach it to valuable items.
Apple AirTag is priced at Rs 3,190 for a single pack and Rs 10,900 for a four-pack. The AirTag will be available for pre-orders starting April 23 in India. The AirTag loop is priced at Rs 2,990, the leather key ring is priced at Rs 3,590 and the leather loop is priced at Rs 3,990.