PUBG Mobile has released a lightweight installation feature for Android users that don't take as much space as the previous versions of the popular battle royale title. PUBG Corporation recently announced that PUBG Mobile will soon be relaunched in India following its ban by the Indian government in September. The new version that is being especially prepared for the Indian market is set to feature some cosmetic changes along with restriction settings on game time in order to instil healthy gameplay habits for young PUBG Mobile players in India.
In order to make the base installation small in size, PUBG Mobile in its latest update brings the lightweight installation feature for Android smartphones. This reduces the size of the game by up to 70%, from 1.9 GB to 610 MB. Moreover, the battle royale game now offers users to customize their game and can uninstall the unnecessary elements. Do note, however, this feature is only available for Android phones and the game size for iOS version is 1.63 GB.
PUBG Mobile lightweight installation feature explained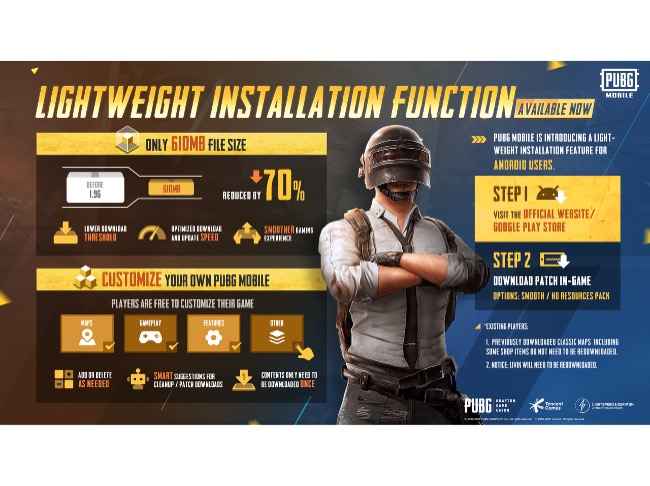 In an attempt to reduce the size of the main PUBG Mobile game, the developers have released a new feature decreased the file size to 610MB. With this, the game also now offers players to customize the game according to their own needs. PUBG Mobile players can now choose to install select features as add-on updates from within the game.
Players of the popular battle royale title can now choose and customize the different in-game elements including maps, gameplay modes, features and more. Some features can also be uninstalled as needed. This means that players just have to download the game from the Play Store and it will contain the basic features and classic map and other add-on maps and modes will have to be downloaded separately.
This makes way for easier download and players won't have to wait for the whole game to get downloaded with major updates. The in-game contents can be easily updated as well and the game also provides smart suggestions for cleanup and patch downloads. The lightweight installation feature takes up less space on your phone now and players can opt for different resource packs based on the storage available on their phones. It also helps users download the in-game content in batches that is expected to help users on smaller data packs. The graphics pack is an additional 332 MB download while the visual effects pack is 592 MB in size.
Once PUBG Mobile India is launched in the country, we expect the same feature to be available on that version as well. This will help many users across India as it gives them the ability to download the in-game content that is needed and not the whole game at once. There are many maps and modes that users don't play and the choice to uninstall some of those features is also a welcome move.
PUBG Mobile is coming back to India and fans of the game have tons of questions that we have tried answering in this FAQ that you can read here.