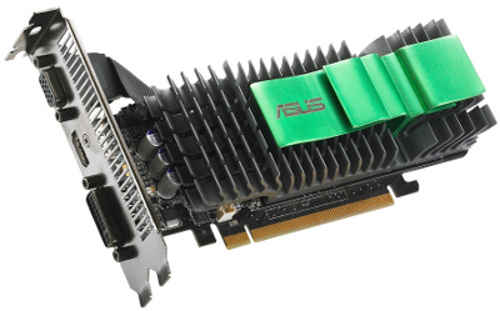 ASUS unveils Bravo220 - an innovative home entertainment PC graphics card, that promises to rejuvenate the essence of spectacular multimedia to the next level. ASUS appears to have discovered a golden median with the Bravo220 - a prospective solution that is reportedly designed to provide cutting-edge visual fidelity while maintaining an eco-friendly profile. Bravo220 apparently symbolizes the ASUS's commitment to innovation, green principles and unsurpassed entertainment value.
Speaking on the launch of the eco-friendly graphics card, Mr. Vinay Shetty, Country Head – Components Business, ASUS (India) has reportedly said, "The Bravo220 was designed from the start with energy savings in mind. Its thermal landscape balances thrifty operation with the need for uncompromising performance as a multimedia anchor, resulting in 21% better power efficiency compared to competing models. The cooling solution also boasts of silent 0dB operation, with no fans needed. Instead, Bravo220 uses oversized heatsinks and advanced materials to ensure quick heat dissipation and greater longevity, without falling back on power-hungry active cooling, thus minimizing energy consumption".
The integrated EMI shield of the graphics card is said to reduce emissions and thus protect users & PC components from any potential hazards. Similarly, a sturdy fuse protection is meant to guarantee long-lasting operation for this component even in the extreme case of fluctuating power supplies. This technological marvel appears to be part of Bravo220's environmental stance, mirrored in the chic green colored heatsink attachment.
Optimized visual treat with Splendid Plus:
Bravo220 cards are purportedly designed to work in sync with an intelligent image enhancement suite called the exclusive ASUS Splendid Plus technology. 'Splendid Plus' is said to automatically optimize video content, reacting to ambient conditions while adjusting brightness, color and contrast – imbibing the characteristics of a human eye.
This Splendid suite is expected to work with a huge range of media formats, which is a perfect trait for a card that promises to sum up a complete home entertainment PC. For each media format, Splendid is expected to produce magically sharper, clearer and vivid images, by reducing noise and artifacts while processing high resolution images and videos.
In addition, selectable presets are said to help users pinpoint the best visual performance configuration, based on their needs and environment - gaming, theater, vivid, color and auto incorporating every usage type that needs a mention.
Bravo Media Center: the control hub of multimedia experience
Bravo220 symbolizes to be the heart and soul of a PC-based home entertainment system with a power packed feature-rich configuration backed by green principles. That precisely appears to be the prime reason for ASUS incorporating the Bravo Media Center interface, which is reportedly an intuitive and robust user package built to bridge every feature with an easy access. Apparently, most vital entertainment features are expected to be accessible through the ergonomic remote control shipped with the card.
Bravo220 does not disappoint, promising a seamless multimedia experience for everyone, with a long-lasting feeling that is comparable to a high-end consumer Audio/Video setup.
ASUS Bravo220 truly exhibits an edge over others, with power packed configuration and the promise of unsurpassed multimedia experience on a PC:
Bravo220 SILENT/DI/1GD2 specifications

Graphics engine

GeForce GT220

Video memory

1GB DDR2

Engine clock

525MHz

Shader clock

1360MHz

Memory clock

800MHz (400MHz DDR2)

Memory interface

128-bit

DVI max resolution

2560X1600

Bus standard

PCI Express 2.1

DVI output

DVI-I

HDCP compliant

Yes

HDMI output

Yes

D-Sub output

Yes

Included accessories

Light sensor

Remote control

Low profile bracket

Bundled software

ASUS utilities and drivers
Note: Specifications are subject to change without prior notice. Please visit www.asus.com for more details.
Other details about the product:
Bravo220 SILENT/DI/1GD2)
Price: Rs. 6550/- (excluding taxes)
Contact person: Mr. Vinay Shetty
Phone: (91) 22 – 67668800 / 18002090365
E-mail: media_india@asus.com
Website: www.asus.in
Warranty period: 3 years