Make 2021 your best year with IBM Developer
Make 2021 the year where you truly shine, grow, build & Code. Get support and motivation from the IBM Developer community. #IBMDeveloper #CodePatterns
Click here to know more
Advertisements
Let's be honest. In the Indian smart speaker market, it's Amazon that has the upper hand in terms of market share and number of devices. In March this year, we reported that Amazon's Echo line-up commanded a 59-percent market share in 2018 while Google came second with a 39-percent market share for the same year. Now, however, there's a slight chance of that changing. Enter the Google Nest Hub(₹ 9999 at flipkart).
Google originally launched the Nest Hub in October last year as the Home Hub. Somewhere along the way in May this year, it decided to rebrand it as the Nest Hub after completing its acquisition of the American home automation company Nest. The Google Nest Hub currently sells on Flipkart in two colour options namely Chalk and Charcoal for a price of Rs 9,999. We received our review unit a while ago. What do we think of it so far?
Initial Setup
Getting the device out of the box and setting it up for use was a fairly simple process. The Google Nest Hub vaguely resembles an LCD monitor from the 2000s with an exceptionally thick base, in my opinion. At any rate, I thought it looked very pleasing on any tabletop surface. The display too appeared to be bright and colourful. In my experience, setting up the Nest Hub was no more difficult than setting up the Amazon Echo Show 5, the Nest Hub's most direct competitor. You can read our review of that here.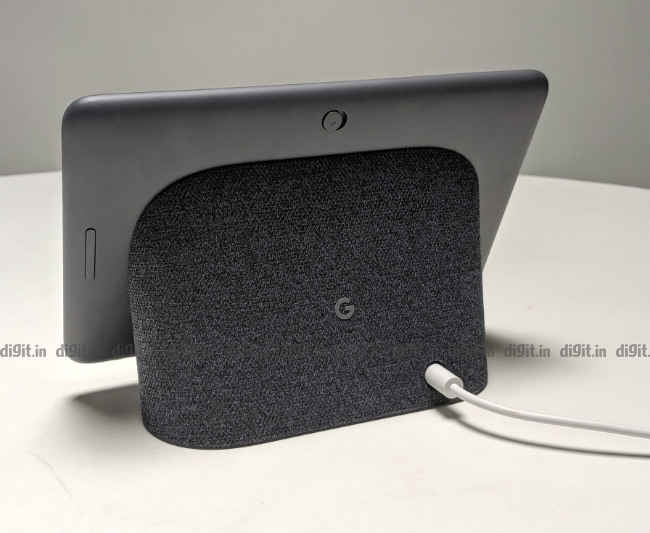 Fuss-free friendly appearance
During the initial setup, the Google Nest Hub expected me to set my account up using the Google Home app, which is available for both Android and iOS devices. In comparison, the Amazon Echo Show 5 allowed me to set it up without depending on a smartphone app. After setup, the Google Home app showed me around the device. The setup tutorial wasn't elaborate or complex. It used diagrams to tell me how to adjust the volume of the speaker and mute the microphone. In summary, the setup process was far from being painful, as is the case with some devices.
First Day
My first day with the Google Nest Hub was pleasant. The device recognised and obeyed simple commands such as, "play songs by ZHU", "play a Tamil song", and "set an alarm for 7:00 am". The sound output wasn't particularly great but it wasn't terrible either. It was similar to the output of a tiny Bluetooth speaker, like say, the Blaupunkt BT-01. I was disappointed to see absolutely no port on the back aside from the round-pin power connector. More specifically, I was disappointed to see the lack of an audio line-out. Hooking up a smart home device like the Philips Hue Starter Kit was a simple affair but how well the experience was is something we'll cover in the review.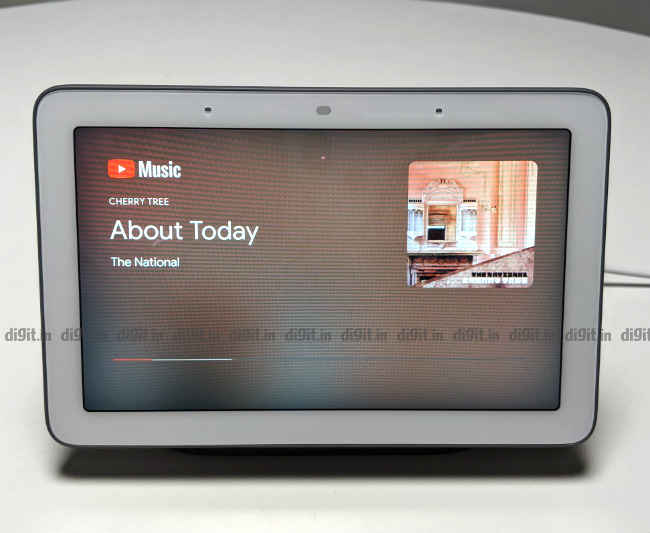 Songs on YouTube Music are a shout away
At night, the Nest Hub's display automatically dimmed to an impressive near zero, ensuring I wasn't awoken or even slightly bothered by the backlight. Weaving through the device's touchscreen interface was an easy affair but users new to a device like this may find it difficult, I feel. I say that partly because, like the latest version of Android, the Nest Hub relies on gesture-based touch inputs. For example, just swiping up and swiping up all the way from the lower edge are two different actions and result in different responses. That said, at first glance, the UI seems to be as friendly as that of the Echo Show 5, if not simpler. A full review should tell you more about it.
First Impressions: Cute
It's hard to say from just a day or two of use whether Google's new toy for smart home lovers is worth its price tag. What I like so far about it are the looks and overall friendliness. I loved that the display did not blind me at night, something the Amazon Echo Show 5 could not help but do. That said, I'm still bummed that Google has not thrown in a 3.5mm audio jack. That's going to make audiophiles raise an eyebrow, including mine. With that, ladies and gentlemen, it's time to give the new Nest Hub a proper review.