VIVO IPL 2019 has kicked off and the cricket bonanza will go on till May 12. We've already seen the Chennai Super Kings come out victorious against the Royal Challengers from Bangalore. The Knight Riders also emerged winners facing off against the Sunrisers, and the Delhi Capitals won against the Mumbai Indians. If you are looking for a quick summary of all the matches, their timings and scorecards, the best way to get a snapshot of IPL 2019 is a simple Google Search with the word IPL. Here, you will find details like match schedules, scores, comments, video highlights and related news.
For streaming, the only place to watch IPL 2019 matches online is Hotstar. You can download the Hotstar app for Android and iOS or simply visit Hotstar.com to live stream IPL matches. You can also tap on the Sports tab at the bottom of the Hotstar app to catch all the action from Vivo IPL 2019 live. Here, you will also find highlights and short clips from IPL matches.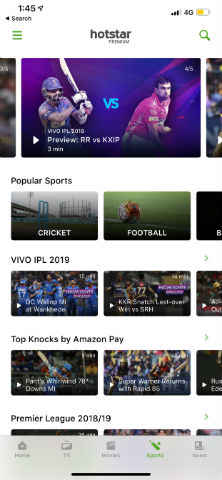 For the first time ever, Hotstar has rolled out a social cricket-watching experience which will let users watch IPL matches together with their friends and family. Hotstar users will also be able to participate in Hotstar's Watch N'Play game with their loved ones. Fans will be able to compete and see where they stand against their friends and family through the new social leaderboard.
Further, Hotstar users can chat about a match or their Watch N'Play experience, not only with their friends and family, but also with experts and celebrities using the app. Winners of the Watch N'Play games will be able to redeem their points courtesy Hotstar's exclusive partnership with Amazon Pay. With the new IPL-related features, Hotstar hopes to reach over 300 million viewers, about 50 percent more than last year.
In addition to Hotstar's social watching experience, the streaming service has partnered with food delivery app Swiggy to help fans order from the Swiggy Pop menu can be ordered directly from within the Hotstar app. Swiggy POP is Swiggy's curated single-serve meals from top restaurants across the neighborhood.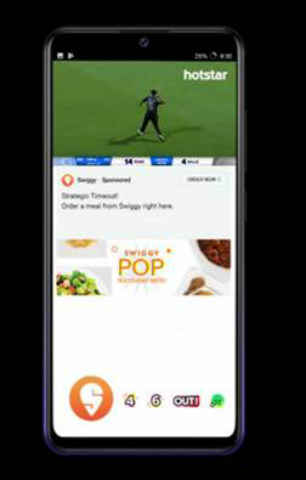 Main Image Courtesy: BCCI