Want to modernise your banking loan application?
Build an application that analyses credit risk with #IBMCloud Pak for Data on #RedHat #OpenShift
Click here to know more
Advertisements
Netflix is testing a new way to watch movies and TV shows while using the platform on a desktop. Engadget spotted that the online video streaming platform is offering a pop out, Picture-in-Picture (PiP) mode for its users. There is an option to enable the feature on the bottom window, similar to the option found in YouTube. Clicking it pops the video out in a small box. The PiP video can be dragged around and can be positioned anywhere and since it is said to stay on top of other videos and apps, it can be used for multitasking as well.
Netflix has confirmed that "THIS (the feature) IS ONLY A TEST" and didn't divulge any other information about it. However, as per the report, some users previously reported of the same PiP option. So, the company might soon roll out the feature for the general public. The option might also prove to be a good option for users who want to multitask while watching something on Netflix. Currently, one has to keep a tab open and the best way to watch while working on something else is to have a split view of the two windows that one is working on. The new PiP option seems to be available for a limited number of users right now and the option doesn't show subtitles.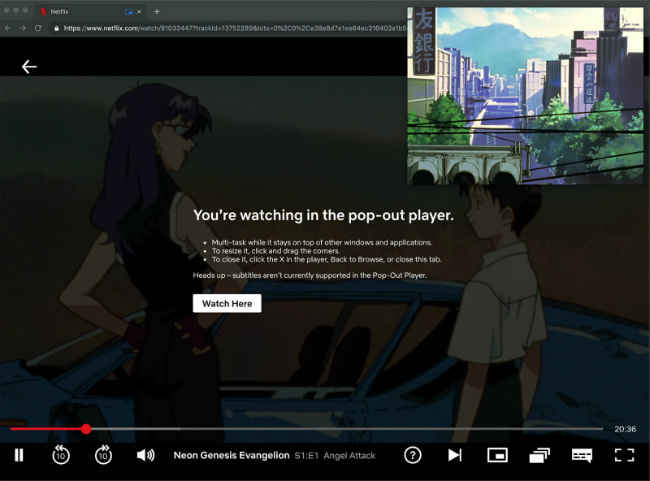 In other Netflix related news, Netflix has released its yearly list of TVs that it recommends for getting the best experience of its platform. This year's list comprises TVs from three brands - Sony, Samsung and Panasonic. Not all the TVs are available in India and surprisingly, no LG TVs made it to the list. There are also a number of other TV brands like TCL, iFFALCON, and other which are pre-equipped with the TV version of the Netflix app and sport a dedicated Netflix button on their remote control, but they aren't a part of this list. You can go through the entire list here.