Sony Alpha 7C along with a zoom lens has officially launched in India as the world's smallest and lightest full-frame camera
Sony Alpha 7C along with a zoom lens has officially launched in India as the world's smallest and lightest full-frame camera. Sony's latest offering in the Alpha series features a full-frame sensor in a compact design with features like advanced AF (autofocus), 4K video recording and more. Additionally, the company has also unveiled a 28-60mm zoom lens with expanding the full-frame capabilities of the camera.
"The new Alpha 7C camera and FE 28-60mm F4-5.6 zoom lens packs most advanced imaging technologies in a brand new design that is the smallest and lightest full-frame camera and lens system in the world. We are opening up a new world of possibilities for content creators by giving them the uncompromised power of a full-frame system in the palm of their hand", said Mukesh Srivastava, Digital Imaging Head at Sony India.
Sony Alpha 7C price and availability
The Sony Alpha 7C is priced at Rs 1,67,990 for the body and Rs 1,96,990 for the variant with 28-60mm zoom lens. The camera is now available to purchase across Sony Centers, Alpha flagship stores and other major electronic stores in India.
The zoom lens will be available as a separate accessory from January 2021.
Sony Alpha 7C features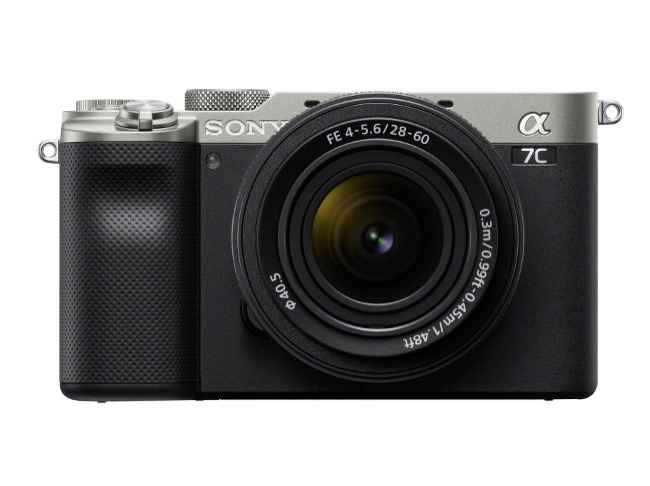 The Sony Alpha 7C has been designed keeping vloggers and video creators in the mind and offers features like advanced real-time eye autofocus and customizable operations for ease of use. Being a full-frame camera, the Alpha 7C is compact and weighs 509 grams.
The camera is capable of recording detailed 4K videos and also supports HDR and S-Log profiles, slow-motion mode, 1080p recording at upto 120FPS and more. The Alphas 7C offers wide and fast autofocus across 693 points that cover over 93% of the total image area. It also offers continuous shooting at upto 10fps with auto-exposure thanks to the new shutter unit and improved image processing system.
Sony says that the Alpha 7C is capable of capturing up to 223 JPEG images, 115 compressed RAW images or 45 uncompressed RAW images in a continuous burst. The camera features a vari-angle LCD monitor that makes it easier for users to record selfies, videos and more in different conditions. The LCD panel is touch-sensitive with over 921 thousand dots and also has a high-quality view mode for more detailed previews.
It also works with Wi-Fi to transfer images and movies to the smartphone directly over the 2.4GHz band. Additionally, there is a USB Type-C connector that supports upto 5Gbps speeds for transfer between camera and PC and also during remote shooting.
Sony claims that the camera is able to capture upto 740 images on a full charge when using the LCD monitor or 680 when using the viewfinder. It also allows the camera to record upto 215 minutes of video recording on a single charge. Moreover, users can simultaneously charge the camera and record which will definitely come in handy.